TIGI FRIDAY! You know what that means — time for our weekly recap of pictures sent in to us from florists all across the nation. Each week we see just what florists have been up to. From weddings to holidays, your local florist is busy creating beautiful arrangements for all of life's occasions, both happy and sad. This week it seems to be more towards the latter with quite a few funeral tributes in this week's collection. Without further adieu, let's get to the pictures!
—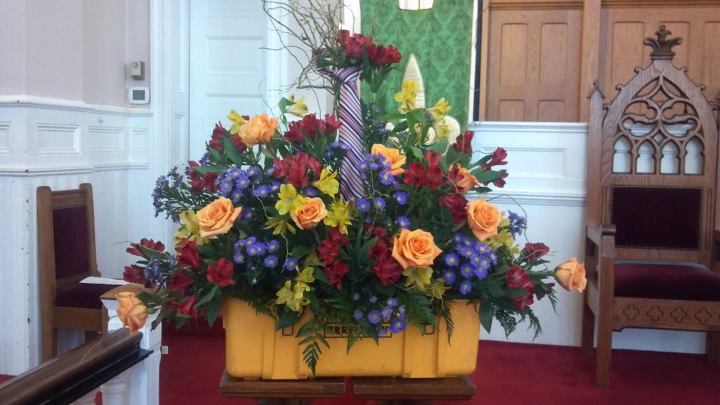 By Libby's Flowers, Gifts & More, Elberton GA
"Flower arrangement for my Church. Borrowed my husband's tool box & tie. We love to make it personable in celebration of all the wonderful fathers out there."
—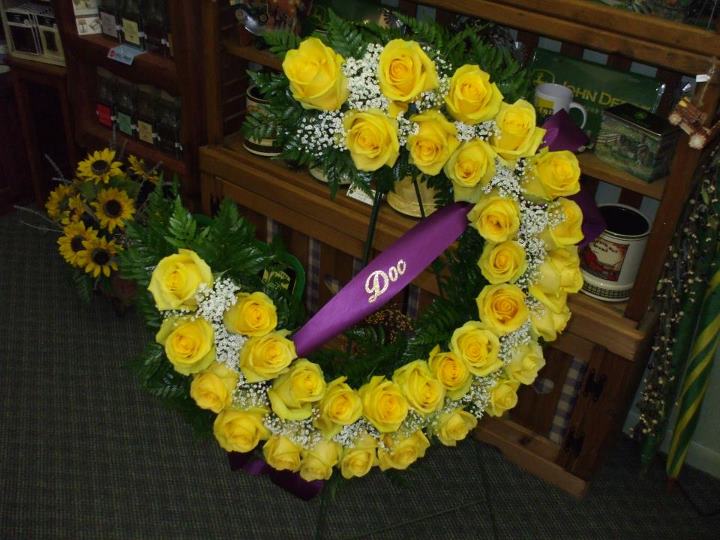 By Turner Flowers & Country Store, Ottawa KS
Doc "A horseshoe of yellow roses I did for the memorial service of a long-time veterinarian and quarter horse owner."
—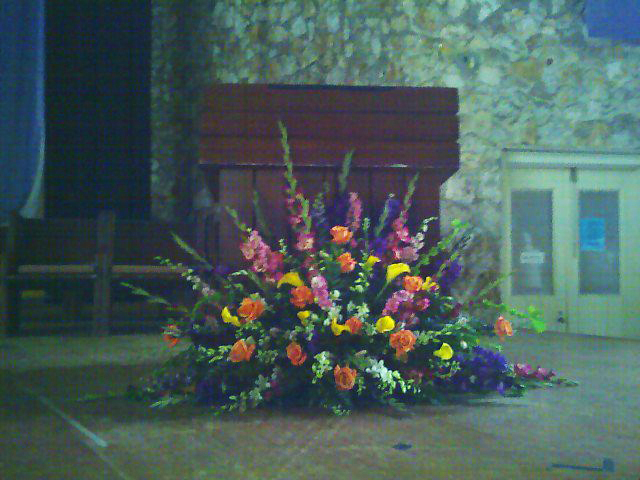 Flowers by Swannanoa Flower Shop, Swannanoa NC
As you can see, Swannanoa Flower Shop has been busy this week.
—
Ibritz FLower Decoratif, New Port Richey, FL
"Purple and plum with pink Nama Roses"
—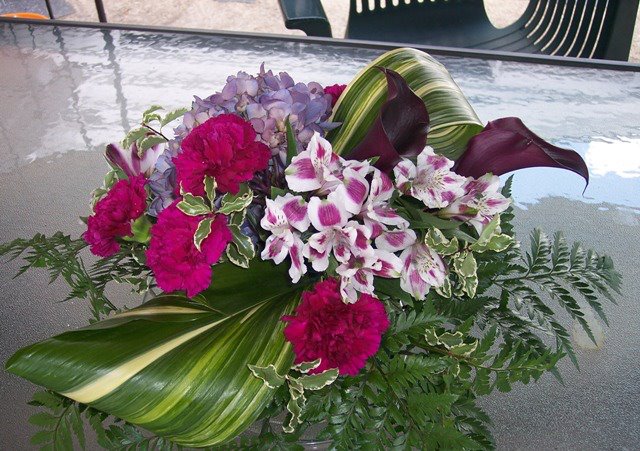 Funeral flowers by Lasting Florals, "I designed this for a retirement party for the honors table, The aspidistra leaves folded in perfectly."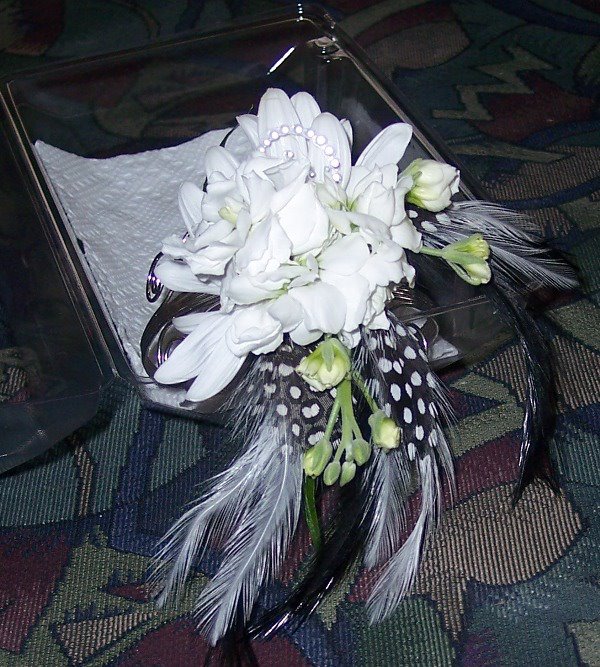 "An arm cuff designed for a local grad."
Above flowers by Lasting Florals, Midlothian VA
—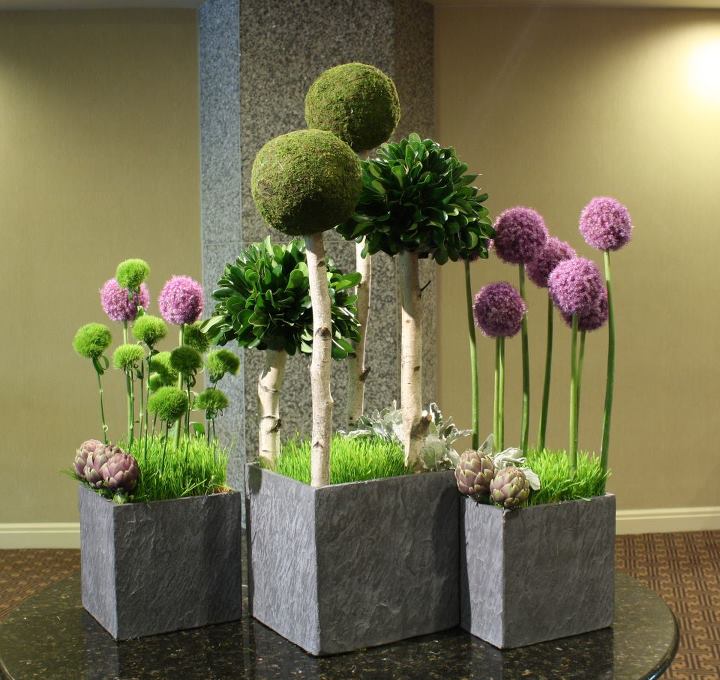 By Crossroads Florist, Mahwah NJ
"'The Park' – Fantasy 'trees' of allium, green dianthus, pittosporum & moss orbs cast shade upon a wheat grass 'lawn'. Boarder plantings of artichokes and dusty miller complete the industrial chic look."
—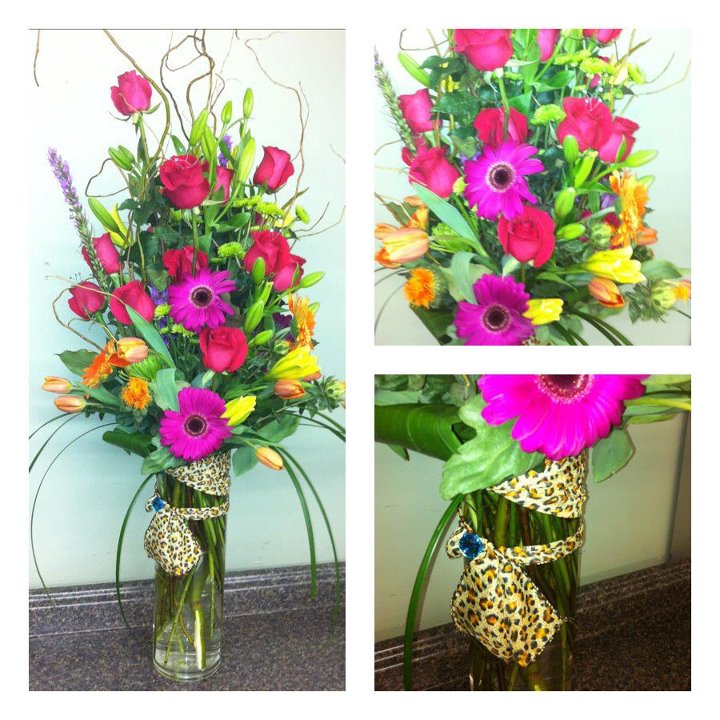 By The Flower Shop, Pryor OK
"Beautiful anniversary arrangement with hot pink roses, Gerbs, lilies, tulips, and curly willow in a cylinder vase wrapped with a leopard scarf…and accented with aqua rhinestones…."
—
Wedding bouquet by Back To The Fuchsia, Saugatuck, MI
"Here is a wedding bouquet from Jeanne at Back to the Fuchsia "
—
By TCU Florist, Fort Worth TX
"We took a wire service's item and put our own spin on it! The hot dog obsessed dad loved it."
—
What will next week bring? Who knows! Be sure to like us on Facebook for even more beautiful floral designs. If you're a florist, we want to feature YOUR favorite design of the week right here on Facebook Friday Recap!