It's Friday! The day of the week we post all of the fabulous pictures florists have shared with us on our Facebook Page. This week, we've really started to see fall flower designs showing up in full force! The reds, the oranges, the yellows – it's time for the descent into fall. So let's get on with what you're waiting for – the pictures!
Everyday Flower Designs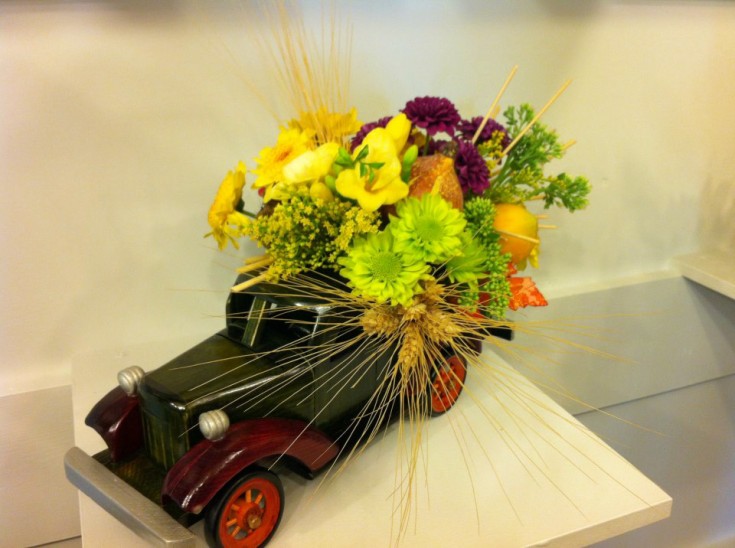 Fall flower design by Lady Bug Studio in Olds, Alberta CA
"It's harvest time in Alberta!"
—
Anthurium flower design by Inspirations Studio in Lock Haven, PA
"We were "inspired" by these anthurium :)"
—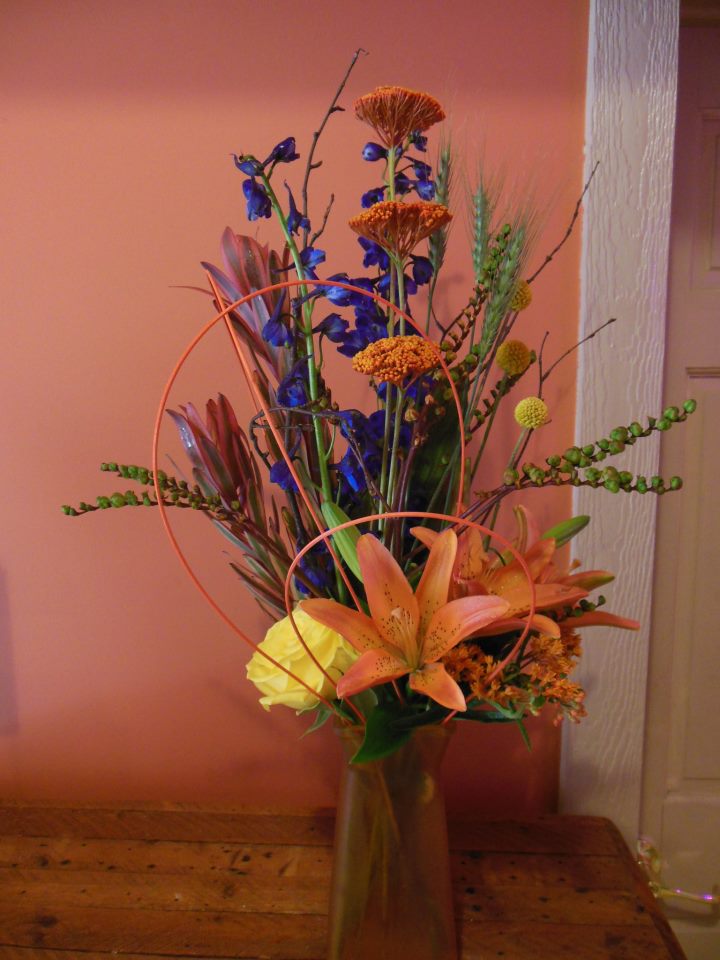 Fall design by Back to the Fuchsia Florist, Saugatuck MI
"A "fallish" piece with the coming of autumn…"
—
Carnation flower arrangement by Dietrich Flower Shop, Durand MI
"A different way to send a dozen blooms!"
—
Two-in-one flower arrangement by Flowers by Flowers, INC. in Parksville MD
""2 piece design" for opening of new local business. The top dish can be removed to create 2 separate arrangements… It's like getting 2 arrangements for the price of 1!"
—
Anniversary & Wedding Flower Pictures
Anniversary flowers by Maryjane's Flowers & Gifts, Berlin NJ
"A 50th wedding anniversary… How many of those do you see today!?"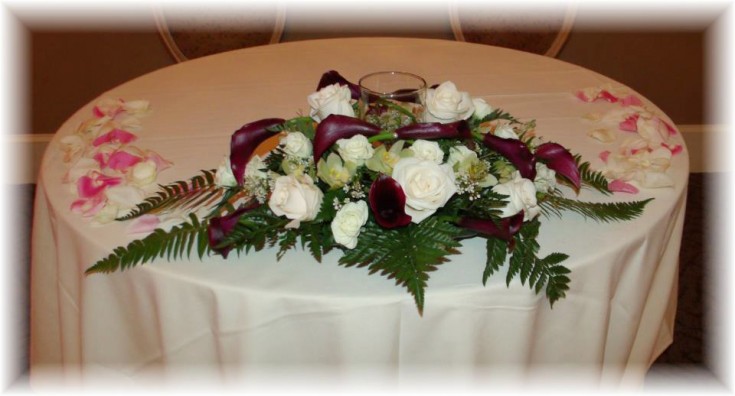 Wedding centerpiece by Maryjane's Flowers & Gifts
"The sweetheart table to one of last weeks weddings…"
—
Fall wedding bouquet by Mary's Flowers, St. Peter MN
"Today's Indian Summer Bridal Bouquet!"
—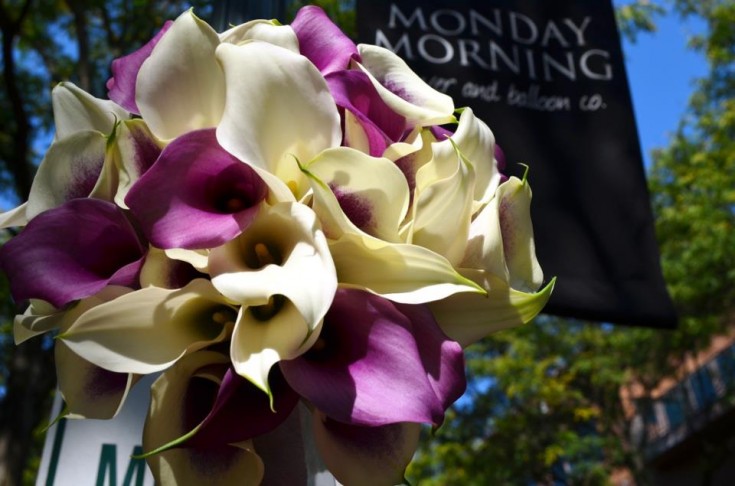 Calla lily bouquet by Monday Morning Flowers, Princeton NJ
"Thought I'd share one of this weekends wedding bouquets!"
—
Corporate Flowers
Harmony, by Crossroads Florist, Mahwah NJ
"Harmony Simple groupings of lilies, spider mums and sago palm leaves are used in these dual arrangements in a calming palette of peach & green."
—
Funeral Flowers
Funeral arrangement by Back to the Fuchsia Florist, Saugatuck MI
"A beautiful sympathy piece from Back to the Fuchsia."
—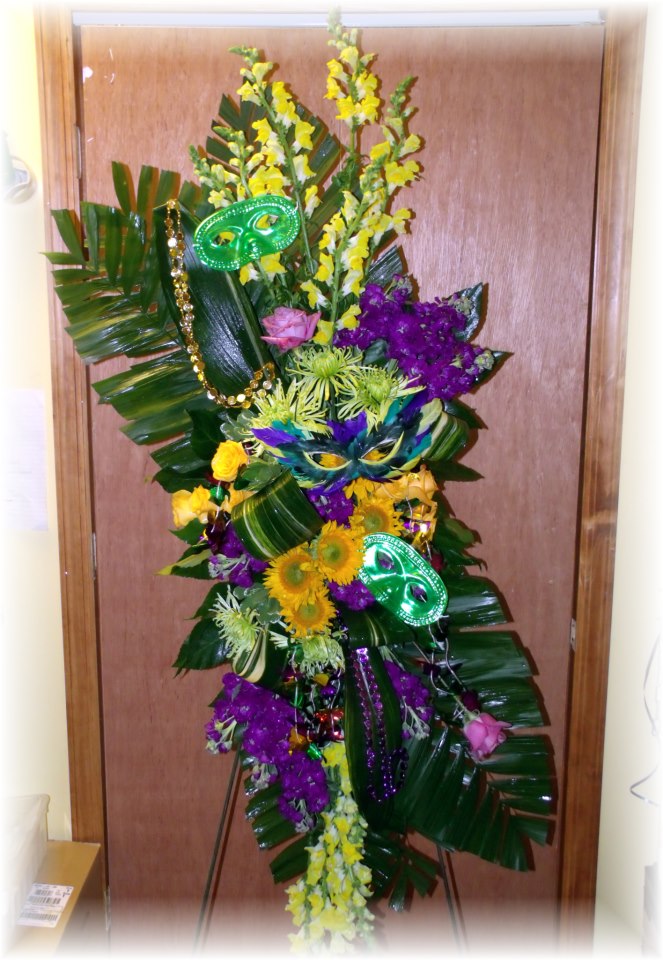 Mardi Gras funeral flowers by Maryjane's Flowers & Gifts, Berlin NJ
"A funeral spray for a man who loved Mardi Gras…"
—
Funeral wreath by Bloomin Florist & Gift Shop, Glencoe AL
"Fresh Flower Grapevine Wreath…"
—
What will next week bring? Who knows! Be sure to like us on Facebook for even more beautiful floral designs. If you're a florist, we want to feature YOUR favorite design of the week right here on Facebook Friday Recap! Click here to see past recap posts!