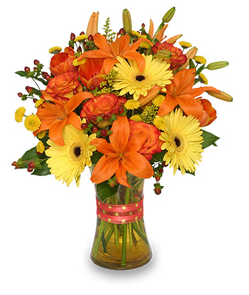 Send A Summer Sizzler!
Send a summer sizzler with this stunning flower arrangement. Brilliant oranges and vivid yellows will put a bright and cheery smile on even the gloomiest of faces.
Looking for a great gift? Don't sweat it, your local florist has the perfect gift for any of this season's occasions — sizzling summer flowers! Are you attending a block party or BBQ? Fresh flowers make fantastic hostess gifts! How about summer birthdays? Who wouldn't instantly perk up with a peak at these bold colors? Maybe you just want to update your home decor; do it with summer flowers!
So, if you're shopping for hot summer gifts, or looking to give your drab room decor an upgrade, look no further than this summer sizzler!