We've written tons of Christmas articles over the years, here at Flower Shop Network. This season, we are bringing you are top 10 favorites!
10.

At Christmas, All Roads Lead Home — Don't Forget To Bring Flowers!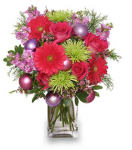 This Christmas, take home a gorgeous flower arrangement, in a style everyone will love! Whether it's for mom, the wife, girlfriend, family or friends — everyone is sure to love Seasonal Style. This is our hands-down favorite for this month! It's unique colors and shiny Christmas ornaments make this a holiday flower arrangement you won't soon forget!
Read more about bringing flowers home for Christmas.
9.

Christmas Card Messages That'll Have You Dancing Around The Tree
Ever feel like the right Christmas message is on the tip of your tongue but you can't seem to get it on the enclosure card? Local florists have the holiday spirit wrapped up. After seeing hundreds of Christmas card messages over the years, they have a pretty good handle on how to send the right message along with beautiful Christmas flowers.
Continue reading for the best in Christmas Card Messages.
8.

The Many Uses of Christmas Flowers: Gifts, Tips, Decorations & More!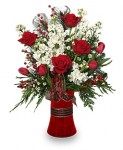 Red poinsettias, 'Casa Blanca' lilies, and the scent of fresh Christmas greens are the basis for many Christmas decorations.  Sure flowers make great decorations, but what about sending flowers as Christmas gifts?  Flowers are a fantastically appropriate gift for Christmas and other religious holidays. You won't have to worry if they are the right size, shape, or color.  You can rest assured they won't already have one.  Whether you use flowers for decorations or as a gift, now is the time to explore the world of Christmas flowers.
Continue reading about the many uses of Christmas Flowers.
7.

Christmas Card Messages For Children
1. Hard to unwrap, easy to love. Thinking of you and hope you have a Merry Christmas!
2. Loved the milk and cookies! ~ Santa
3.(Funny) Don't worry. You're still getting presents.
4. From Rudolph
Continue reading Christmas card messages for children.
6.
Last Minute Fresh Flower Decorating Tips For Christmas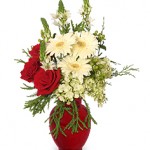 With Christmas coming soon, it's very likely that you already have your Christmas decorations up and out. However, some decorations are just better when brought out the day of or the day before the occasion. Any person that wants to decorate with fresh flowers should consider this unspoken rule…
Read more about last minute Christmas decorating tips.
5.
So What's A Good Gift For That Other December Holiday?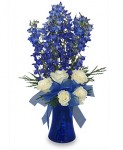 Well, there are several December holidays that come to mind. Christmas, Kwanzaa, and Hanukkah take the lead in my mind. Hanukkah and Kwanzaa are major holidays that are very understated and tend to take a backseat to Christmas. However, these are very popular holidays that merit the same kindred spirit and celebration.
Read more about gift ideas for holidays in December.
4.

Flower Meanings That Guarantee A Happy Holly-day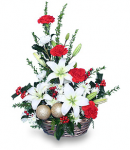 While we normally highlight the meanings of flowers, there is also much to be said with special foliage such as myrtle, holly, fir, pine and moss. These are often used in holiday flower arrangements and create a wonderful ambiance that helps set the arrangement apart from the rest.
Read more about traditional holiday holly and myrtle.
3.

Procrastinators Take Heed: A Last Minute Christmas Decorating Tip
Christmas is just days away. Many are already coming together for family and friend celebrations. Despite the ticking clock, I've decided to help out the procrastinators who are choosing the last minute to start prepping for Christmas. Here are some ideas for adding floral pep to your holiday celebration.
Read more about last minute Christmas decorating tips.
2.

Glitz & Glam: This Ain't Your Momma's Christmas Decor
Are you tired of the traditional red and green we see every year at this time? You're not alone. Many people are opting for a more quirky Christmas look. This year, opt for the Glitz & Glam Christmas! For this outrageous look, channel your inner child and go wild and crazy when selecting your Christmas decorations and ornaments.
Read more about Glitz & Glam Christmas: unique Christmas colors.
1.

Point The Way To Christmas With Beautiful Poinsettias!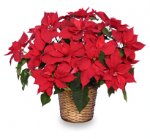 It's THAT time of year again.. Hopefully the holidays didn't sneak up on you too fast. If they did, the fastest way to get yourself into the Christmas spirit is to START DECORATING! Start by adding the oh-so-Christmas Poinsettia!
Read more about decorating with Christmas Poinsettias.
This post is brought to you by local Charlottetown, PE florists.
Not in Canada? No worries, Flower Shop Network's handy local florist directory can help find your local florist anywhere in the US & Canada.