First of all, let's think of the purpose of funeral flowers: to show one's love, and support for the family and the departed. Flowers comfort and soothe us as we say our final goodbyes, but why stop there? Creative florists everywhere are using funeral flowers to construct personalized tributes to fallen friends.
What Kind of Personalized Funeral Flowers Are Available?
The limit is your imagination. Consider your lost friend and the biggest loves in their life. Perhaps they were an avid fisherman, loved bowling, or were closely involved in an organization. Use their favorite hobbies, passions and accomplishments as inspiration for their final tributes. Funeral flower tributes spark wonderful memories of times past, and lift the mood with stories and laughter about time spent together.
How Do I Purchase Custom Flowers For Funerals?
That's easy! First, find a local florist in your area, or in the location of the funeral. Flower Shop Network makes it easy with our real, local florist directory. Click below to find local florists in any city in the US & Canada.
Next, call your florist directly and discuss your ideas for the funeral tribute. Explain their favorite hobbies or affiliations, and let them know their favorite colors and styles. If you have something specific in mind, find a picture of it or something in a similar style. Send that to your florist to make sure they can create exactly what you're wanting.
(Let FSNfuneralhomes.com help you find a funeral home.)
Funeral Flower Pictures Inspiration
Here are pictures of unique funeral flowers from local florists all across the US.
Hobby – Themed Funeral Flower Photos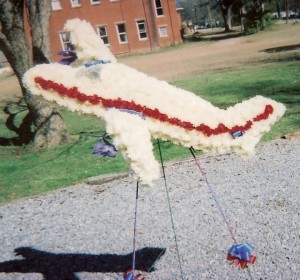 Airplane Funeral Flowers
"A funeral design, for a pilot about 5 years ago."
Buds 'n Bows Flower Shop in Crawford, GA
Gardening Funeral Flowers
"For an avid gardener. I got complimentary calls from the family, the minister (who had never seen anything so beautiful) and the funeral home on this one. :)"
The Petal Patch, McFarland, WI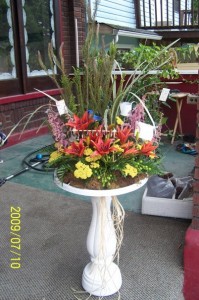 Gardener Funeral Flowers
We actually made this for the funeral of a dear friend and floral mentor of ours as our tribute. :-)
Charlotte's Flowers, Cresson PA
Guitar Funeral Flowers
"We get requests for things like this quite regularly; they were nearly unheard of a few years ago."
Charlotte's Flowers, Cresson PA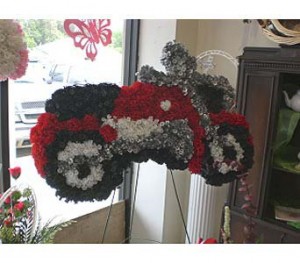 Motorcycle Funeral Flowers
"Country Express sympathy design — We do a lot of unusual designs!"
Country Express, Denham Springs LA
Hobby Funeral Flowers
"Personalized funeral piece."
Charlotte's Flowers, Cresson PA
---
Affiliations & Logo Funeral Flowers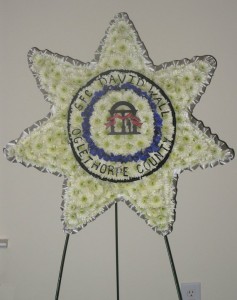 Deputy Funeral Flowers
"Our local Sheriff's Dept. ordered this for a retired deputy–the 7 pointed star was a bit difficult, but we're always ready for a challenge."
Buds 'n Bows Flower Shop in Crawford, GA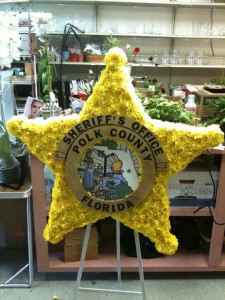 Sheriff Funeral Flowers
"This was for a Polk Sheriff Deputy"
Hand Picked Florist in Winter Haven FL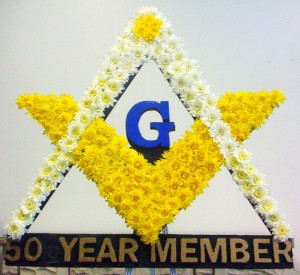 Mason Funeral Flowers
"All custom shapes created in house."
Hand Picked Florist in Winter Haven FL
---
Nature Lovers Funeral Flowers
Nature in Funeral Flowers
"For a hunter- the urn was to be placed on the right of the deer."
The Petal Patch, McFarland, WI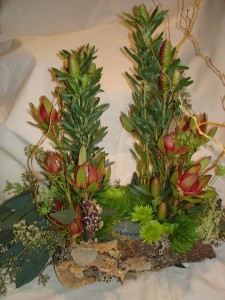 Nature Memories Funeral Flowers
"Woodland Floor "
The Petal Patch, McFarland, WI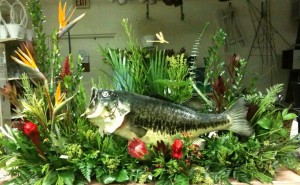 Angler Funeral Flowers
"All custom shapes created in house."
Hand Picked Florist in Winter Haven FL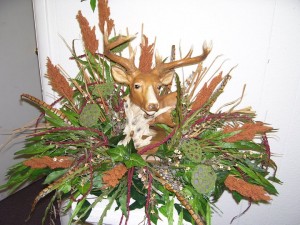 Deer Funeral Flowers
"We do a lot of funeral pieces that contain deer. This is a pedestal piece."
John's Flowers & Gifts, McAlester OK
Western Funeral Flowers Spray
"We made a pair of these for a family who owns a big ranch to put on their front doors. Metal horseshoes, stars & lantern with rope & pheasant feathers."
John's Flowers & Gifts, McAlester OK
Trout Fisherman Funeral Flowers
"We made this casket spray a couple of years ago for a fisherman/ outdoorsman."
Buds 'n Bows Flower Shop in Crawford, GA
Hunters Funeral Flowers Spray
John's Flowers & Gifts, McAlester OK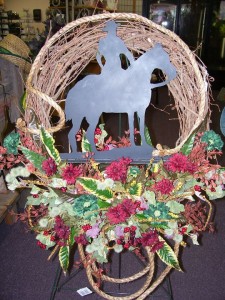 Cowboy Funeral Flowers
"Grapevine wreath with silk flowers, metal horse & rider and rope. We have a lot of cowboys in this area. Family took it home after funeral and put on their wall."
John's Flowers & Gifts, McAlester OK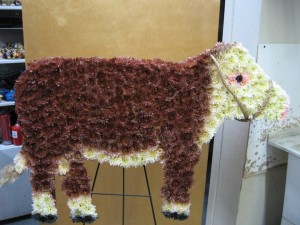 Farmer Funeral Tribute
"Local farmers funeral tribute."
Flower Fashions Inc, Frederick, MD
---
Art/Photo Frame Funeral Flowers
Photo Funeral Tribute
"A special photo can be a work of art"
City Florist, Cullman AL
Artists Funeral Flowers Tribute
"It is more fun doing pieces like this; it means more than just another funeral spray."
MaryJane's Flowers & Gifts, Berlin NJ
Artists Funeral Flowers Tribute
"This was the casket spray."
MaryJane's Flowers & Gifts, Berlin NJ
---
Sports Fan Funeral Flowers
Football Fan Funeral Flowers
"Here's a tribute for a big fan…"
City Florist, Cullman AL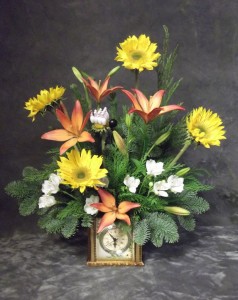 Bowling Themed Funeral Flowers
"This is one we put together from a bowling league. If you look closely we de-petaled a sunflower and set mini bowling pins on it and there is a little black bowling ball just about to knock 'em down."
Blossom Shop, Strasburg CO
Sports Team Funeral Flowers
"All custom shapes created in house."
Hand Picked Florist in Winter Haven FL
Bowling League Funeral Flowers
"We did this piece for a member of a bowling league from the other members."
Roddy's Flowers in Johnson City TN
---
Unique & Creative Funeral Flowers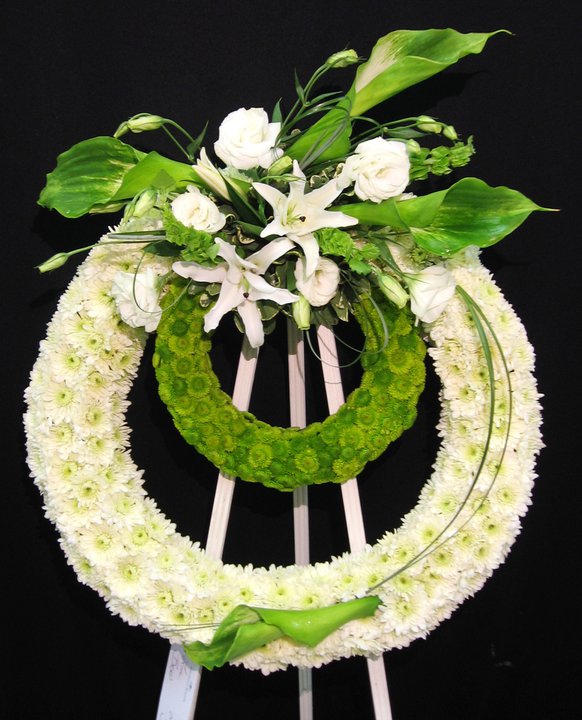 Modern Funeral Flowers
"All custom shapes created in house."
Hand Picked Florist in Winter Haven FL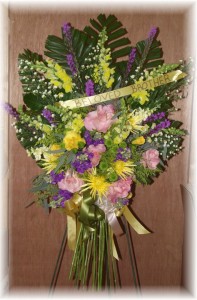 Bouquet of Flowers For Funeral Tribute
"Another piece I like to do instead of the standing spray is this, which looks like a large bouquet of flowers."
MaryJane's Flowers & Gifts, Berlin NJ
Angelic Statue Funeral Tribute
"This is a resin angel bird feeder that we put a flower arrangement in. Can set on table or pedestal. Great for funerals."
John's Flowers & Gifts, McAlester OK
Wreath of Flowers For Funeral Tribute
"Something 'unique' was the request for this one!"
The Petal Patch, McFarland WI
Related Articles:
Personalized & Creative Funeral Flowers
Above & Beyond: The Quest For Perfect Personalized Funeral Flowers
Looking To The Past For Inspiration: African Funeral Tributes
Florists Share The Importance Of Funeral Flowers
Sending Funeral Flowers? Your Florist Needs This Info