In a modern world, there are few things that unite both generations and the sexes. Books abound on the differences between men and women, and generational gaps lead to misconceptions from both the young and old about each other. A recent exhibition hosted at the Dixon Gallery and Gardens in Memphis, Tennessee, Anything but Clear: The Studio Glass Movement, 1979-2009, proved that art and flowers unite people, and perhaps if we all took a little more time out of our stressful routines, we'd find greater perception waiting to "bloom."
Participants in this well known biennial show not only exhibited their creations, they also competed against fellow
floral arrangers and master gardeners for coveted prizes. Competitors displayed their prize winning clippings and plants from their personal collections in one room. Ribbons were proudly displayed by the winning plants, and horticulturalists of all ages and experience milled around discussing techniques, tricks of the trade, and lamenting the familiar plight of the gardener against unwanted insects. The scent of flowers wafted through the museum, and one could imagine the intoxication and delight of bees as they bumble from blossom to blossom. It was nothing short of an olfactory paradise for attendees.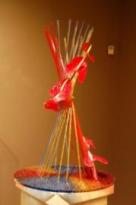 In the galleries of the museum, the juxtaposition of studio glass art and floral arrangements was a lesson in combining the synthetic and organic in innovative ways. Participants selected containers created by glass smiths and artists and combined the pieces with flower arrangements. The glass necessitated careful consideration of color, light, and shape as glass as a medium presents unique challenges because of its' refractive qualities. A collection of photographs with flowers as a subject were displayed in one space, and some photographers used inventive techniques to create a three dimensional effect where flowers appeared to bloom from the page.
While the show and pieces proved to be a success and a pleasure to view, it was the crowd that supplied the most extraordinary arrangement. Botanists, students, art aficionados, tattooed motorcyclists, grandparents, men, women, young, and old all attended, proving that art and flowers are universally appealing. Flowers provide a natural medium, and Auguste Rodin's quote captures this exceptionally. Rodin said, "The artist is the confidant of nature, flowers carry on dialogues with him through the graceful bending of their stems and the harmoniously tinted nuances of their blossoms. Every flower has a cordial word which nature directs towards him."
–Written for
Flower Shop Network
by guest author
Sarah Cash
. Sarah is an Administrative Assistant in the Student Union at Arkansas State University. She is working on completing her bachelor's degree in Interdisciplinary Studies with a focus on English, sociology, and history. She enjoys warm mugs of tea, spending time with her cat, good storytellers, and vintage dresses. Sarah has had several short stories and poems published in literary magazines. Her favorite flowers are hyacinths.–
This post is sponsored by Memphis TN Local Florists.