Have someone on your list who's just impossible to buy for? Either they have EVERYTHING or are so PICKY it's a hopeless mission finding anything they would like. Well here's a little help…
Surprising With Christmas Flowers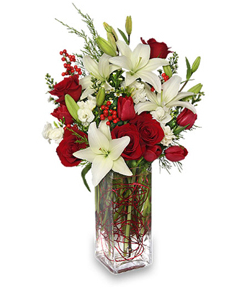 This year, don't stress yourself over finding the perfect gift for them, send Christmas flowers. Nothing lifts the spirits like a beautiful bouquet of fresh blooms, which is exactly what we need in the later part of December. Add an element of surprise by sending flowers to your picky recipient's office. (Especially great if the person you have in mind is a boss or co-worker!) They will be thrilled to be the envy of everyone at the water cooler.  Sending flowers to one's work doesn't always have to be done by the hubby or boyfriend, but it IS ALWAYS a great surprise!
Perfect Gift With The Holiday Hostess In Mind
If your recipient is as fast paced as you are during the holidays, give them a gift certificate from your local florist. This is an especially great gift for someone who hosts a lot of parties, or simply loves to decorate their home. They can use the certificate just before their big New Years party for a stunning, winter centerpiece.
Send Flowers All Year Long
If your picky someone-special's gift budget is bigger than a bouquet of Christmas flowers, ask your florist about their year round flowers club. Many local florists have a special year round flowers program. This would be quite a special gift! (I know I'd love it!) Each month, your giftee will receive a new bouquet of fresh flowers (matching the appropriate season or holiday) to decorate their home. Who wouldn't LOVE that?
So the next time you're stressing over what to buy rich Aunt Sally or your picky big sister Karen for Christmas, think flowers — they ALWAYS fit.
This post is brought to you by local Charleston WV florists.
Not in Charleston? No worries, use Flower Shop Network's handy directory of local florists to find a florist near you.