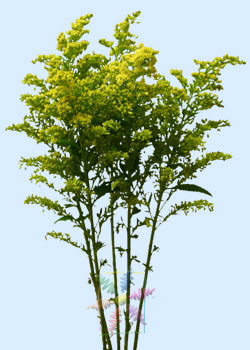 On a recent road trip, I couldn't help but notice the colors of fall already starting to show. One fall flower that really caught my attention was the golden rod or, as most florists call it, solidago. Our Arkansas landscape is currently covered in this bright yellow flower. We aren't the only ones who enjoy seeing solidago on the horizon, this flower has been adopted as the state flower by Nebraska and Kentucky as well as the state wildflower for South Carolina. While solidago is considered a wildflower or even weed by those in North America, it is actually a favorite garden flower in Europe.
Golden Rod Allergy Myth
Many people shy away from this particular flower because of it's bad reputation of causing hay fever and other allergies, but actually ragweed is the culprit with a similar blooming time to solidago (golden rod). Actually the pollen of solidago is too heavy to be wind-pollinated and must be carried by insects from plant to plant. Handling solidago may still cause problems to those with allergies, however.
Use In Floral Design
Did you know golden rods (solidago) are a common filler flower used by florists? That's right, in many designs florists use a hybrid version of the common golden rod to add bright yellow color and interest to a flower arrangement. They have been hybridized to bring out all the best qualities of solidago.  This fall-bloomer is a great addition to your seasonal decor.
Here are a few favorite flower arrangements that feature solidago from our Flower Gallery: