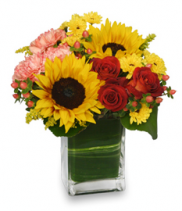 This September, FSN's Favorite Flower is the Season For Sunflowers bouquet in the Grandparents Day album. This stunning combination of sunflowers, carnations and roses will delight any GRANDparent!
Send them sailing through memories of golden sunflower fields, picking red roses and other wondrous memories of summer.
For grandparents who live a long distances from us, sending flowers is a great way to say "You are truly GRAND," and fill them with love and appreciation.
So remember, Grandparents Day is September 12, 2010!
Use Flower Shop Network's fantastic directory to find a real local florist near you!
Related Articles:
"Happy Grandparents Day" card messages
5 Reasons To Send a Dish Garden For Grandparents Day