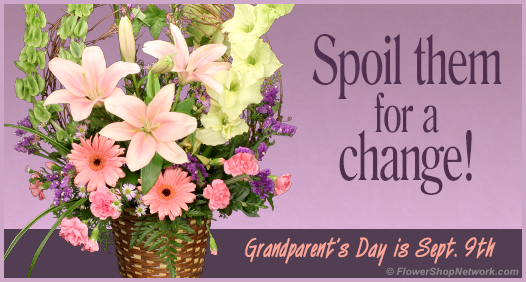 Grandparent's Day is Sept. 9th, 2012
Grandparent's Day is the time of year we get to spoil our Gram-gram and Pop-pop like no other. We go all-out for Mothers and Fathers Day; you can't forget your grandparents who go all-out for you.
Grandparent's Day is about honoring our family, but it's also about learning from them and where you came from. Does your grandmother know a special skill or recipe? Spend time with her and learn it together as a family. Listen as a group to Grandpa's stories as he tells you of a different time that has been all-but forgotten. This can be especially significant to small children who are learning about respect for their elders and their heritage.
Family Togetherness
Most importantly, this holiday is about family love and togetherness. Even if you can't physically be together on Grandparent's Day, making time to talk or express your feelings for them is so important. Flowers for Grandparent's Day often say what words do not. This traditional gift is perfect to take to your grandparents, or a convenient way to send them a thoughtful gift from afar. Need Grandparent's Day card messages?
Helping Others
Grandparent's Day is more than a celebration for your grandparents, it's to remind us to appreciate our elders everywhere. We should not forget about home-bound elderly and those who are in nursing homes who are unable to see their family for Grandparent's Day. A simple visit with uplifting flowers can mean more than you will ever know. Keep these grandparent's in mind as you celebrate this holiday.