This year's Great Lakes Floral Expo was a big hit! Flower Shop Network had a fantastic time meeting many of our Northern florist friends.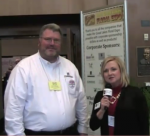 In the above video, Loranne Atwill of Flower Shop Network interviews Rod Crittenden, executive vice president of the Michigan Floral Association. Rod tells FSN followers all about the incredible show they've set up this year. Florists enjoyed an amazing design contest, 7 design workshops and an all-day workshop by J. Swanke. There were 10 business sessions, 6 stage design shows, and more! (View video on YouTube)
As a florist, it's so important to stay on our heels when it comes to business. Attending these floral conferences is the best way to stay ahead in this industry.

We can't wait to see YOU at our next convention!