Congratulations on another milestone year! Stuck on what to give your sweetie this year? It may seem cliche but it's never wrong to send flowers on your anniversary. There are many clever ways to surprise your lovely lady or dashing beau when your anniversary rolls around again. Just to help you out, here is one sure-fire surprise that is bound to be a hit.
If your beloved's workplace allows visitors or deliveries, send a romantic flower arrangement to your honey at work! Your lady will be the object of envy around the office for the rest of the day. She'll have a chance to brag about how sweet you are and how much you care. You'll earn brownie points for remembering the day without being told. You don't have to go far to find beautiful anniversary arrangements. Flower Shop Network has a great selection of anniversary flowers that you and your sweetheart will love!
To spice up the traditional, throw in a special gift such as a teddy bear or candy. If you really want to hit a home run, include that new cd that she's been eyeing. If she's a dog lover but poodles are her prize, send her a bouquet of pretty flowers lovingly arranged in the arms of a stuffed poodle. Your local florist has probably seen every idea out there so don't be afraid to ask him or her for more great ideas.
Speaking of great gift ideas, we have many more ideas for sending flowers on your anniversary so remember to visit the Bloomin' Blog again. Did you try this gift idea and love it? Let us know!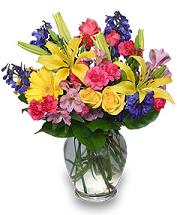 Surprise your sweetheart at work with colorful flowers!