Ask the Expert: Peace Lily Help
Hello,
I received a peace lily from my grandmother recently. I repotted it into a slightly larger pot with potting soil, and have had it in medium light with weekly watering. This week, it looked pretty wilty, and also had yellowing of the flowers. I trimmed them off, and moved it to a lighter location. When I put my finger in the soil, it doesn't seem overly dry or overly wet. Included is a photo of the poor plant. If anyone has advice, I would love to hear it!
Thanks!
Kami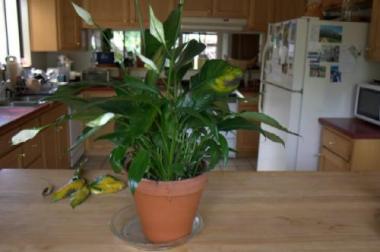 Kami,
Your peace lily is under stress. Transplanting, water issues and light issues can all cause stress. Here is the kicker, it can take a few weeks for the damage to appear. As a result you may have corrected the problem before you knew you had a problem. From the picture I would say at one point it had a water issue. However, it also looks like you are getting new growth at the bottom – an indication that the stress issue may have been corrected.
When you re-potted the peace lily did you keep the plant at the same level? In other words you didn't add soil to the top of the plant, you only closed the gap between the root-ball and the sides of the new pot. Covering the top of the root-ball can effect the surface roots of the plant. Lift the plant so that the top of the root-ball isn't covered with add soil. I would also recommend reading our Caring for Peace Lily Tips.
All in all I think your peace lily will be fine. Just as it takes a few weeks for damage to show up, indication of recovery also takes a few weeks.