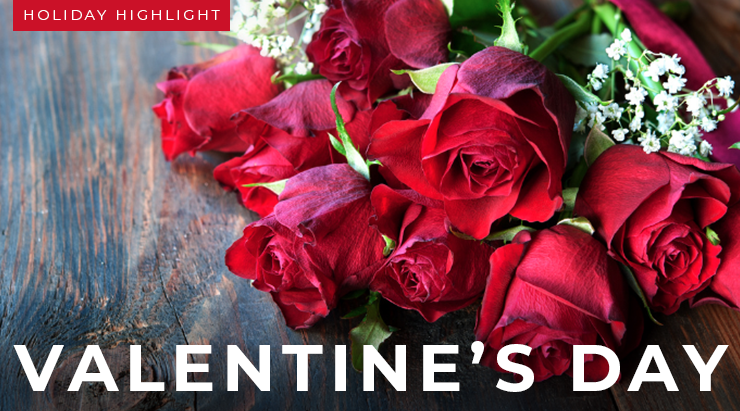 Valentine's Day happens every year on February 14th, and it's one of the most popular times to send flowers to your loved ones! But what is Valentine's Day really all about? Keep reading to learn more about its history and about the best flowers to send on this special day.
History
Valentine's Day as we know it today originated as a Catholic feast day to commemorate the anniversary of St. Valentine's death. There are two saints by the name of Valentine who were executed on February 14th, and it's unclear which one the holiday was originally intended to celebrate. St. Valentine of Terni was martyred for secretly performing weddings for Roman soldiers against the emperor's wishes, making him a proponent of love. The other St. Valentine allegedly wrote the first Valentine, signing a love letter he wrote while imprisoned "From your Valentine." 
While the truth behind these stories is uncertain, they all portray St. Valentine as a romantic figure. By the Middle Ages, he had become one of the most popular saints in England and France. The poet Geoffrey Chaucer linked Valentine's Day with love for the first time during this period, cementing Valentine's Day as the romantic holiday we think of today. 
In modern times, flowers have become a traditional gift to send on Valentine's Day. With their symbolism of love and passion, these flowers are among the most popular you can send to your special someone on Valentine's Day:
Roses
Obviously, you can't have Valentine's Day without red roses!  They are one of the most widely recognized symbols of passionate, romantic love, making them an enduring classic for the holiday. But red isn't the only option when it comes to roses! Roses come in many other colors, including pink, orange, purple, and so many more. You can't go wrong with any of them so pick the one that your Valentine will enjoy the most.
Carnations
Another great choice for flowers on Valentine's Day is carnations. Their fluffy, delicate petals are beautiful alone or along with other flowers. Carnations are known as the flower of love, which gives them the perfect meaning to send on this romantic day. They're available in a wide range of colors, so there's a great option for everyone!
Lilies
Lilies are beautiful flowers on their own, but including them with other flowers like roses or daisies makes them appear even more grand! They stand for devotion and passion, making them a perfect choice to send to your partner on Valentine's Day. Lilies scream luxury, so sweep them off their feet with an arrangement of lilies!
You can't go wrong with any flowers you send for Valentine's Day. Contact your local florist and place your Valentine's Day order today!