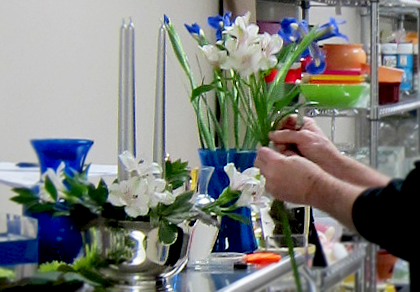 How involved is your flower shop in the local community? (No blank stares, please.) The more you put yourself out there, the more you will get back!
Do more for your public image by offering workshops to your community. This engaging approach cements your business in the minds of customers, and can be highly rewarding.
By developing simple, one-day sessions, you can reach out to your neighborhood to offer an event that is completely original.
Your customer base will increase, not just from workshop participants, but word of mouth as well. Think of it as summer camp for flower enthusiasts!
Host Workshops in Your Area
Flower Arranging 101 – Teach the basics of flower arranging to the DIY crowd, and make sure they know they can get the best loose stems and flower accessories from you to build their own custom creations.
Grow Green Thumbs  – Show how to care for all the houseplants you offer in your shop by demonstrating various pruning, re-potting and watering tips.
Cocktail Flower Hour – Offer a wine tasting paired with a floral design lesson for a relaxed and sophisticated evening mingle.
Posy Pals  – Make use of bright, summer blooms and appeal to all ages by teaching young flower lovers how put together a beautiful flower arrangement. (Great just before family-oriented holidays, such as Grandparent's Day.)
Girls Night Out – Appeal to fun-loving bachelorettes by making a "Girls Only" event where the talk of the town will be the pretty arrangements taken home.
Holiday Time – Select an upcoming holiday and theme your workshop around the special time of year. Easter baskets, Christmas wreaths, Autumn displays – practically any holiday has the potential to be a big hit.
Special Interest – Highlight your passion by teaching others! Maybe you love Ikebana, terrariums, pressed flower crafts, bonsai or wildflower arrangements. Showcase your specialty with this workshop!
Helpful Flower Workshop Tips
Pick a workshop plan that plays to your strengths as a florist. If you are teaching what you know, there is no need to develop a huge amount of material. Remember you aren't teaching your students everything you know, just getting them interested and inspired. Focus on a single task for one session, make a few notes to guide you and jump in. Just be yourself.

Set up a fair price for participants that covers the cost of supplies for take-home projects and the floral design. If you have out-dated products, old stock or rarely used materials in storage find a way to utilize these in your class.

Include a list of basic tools and supplies participants can bring (scissors, glue, apron, glass vase, round basket, etc.) Have extras on-hand to borrow, rent or purchase.
Get the word out with signs in your shop and posts to social media. Check with local papers, public TV and radio stations. Usually it is completely free to post community event information. If you really don't want any empty seats, take reservations and only hold the workshop if over half the positions are spoken for beforehand.
Ask your wholesaler or supplier to contribute a box of their product or flowers. Invite them to stop by, and don't forget to post thank-yous online and display in your shop.
By hosting workshops, you are creating an opportunity
for valuable community building that in turn opens your business up for more local exposure.
In an friendly, relaxed setting, you will foster the potential for life-long customers in a way that really lets your creativity bloom!