Big congratulations to Rebecca Sherman, AIFD in taking home the 2013 Houston Cup! Rebecca is a floral design artist with The Blooming Idea in The Woodlands, Texas, and a 20 year veteran of the floral industry.
The Houston Cup is an annual floral design competition for the members of Allied Florists of Houston. The winner of the Houston Cup advances to the preliminary phase of the  Texas State Florists Association's prestigious Texas Cup Competition.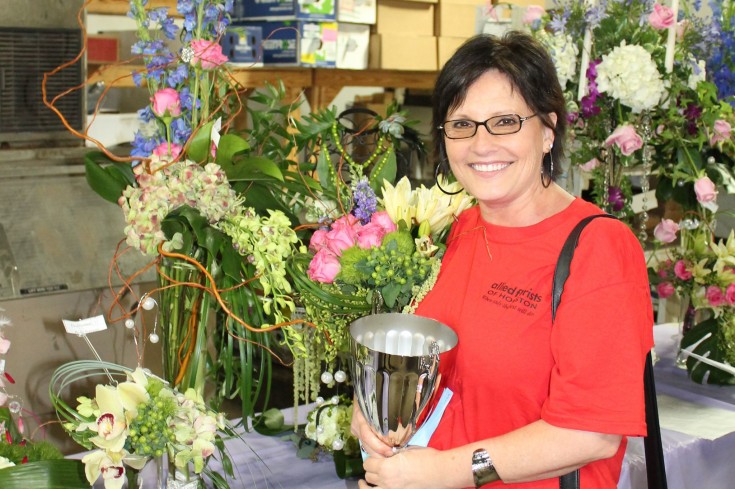 From the Allied Florist of Houston:

"…the competition featured 10 professional floral designers in this year's Great Gatsby themed competition. Each person brought 1 Interpretative Design following the Great Gatsby theme and during the hands on competition completed a floral wedding bouquet and a surprise package arrangement of a large arrangement for a grand foyer for a party. Grading is completed by a panel of 3 top rated floral Judges based on the principles and elements of design."
With F. Scott Fitzgerald's Great Gatsby at the heart of the competition, decadent beauty abounded in all the contestants designs. Flowing feathers, lush greens, dramatic textures and delicate blooms reflected the glitz and glamour of the roaring '20s and made for opulent results. Visit The Blooming Idea's Facebook page for more great photos.
The Blooming Idea has been a FSN member for 13 years and we are very proud of Rebecca for winning this prestigious award. Her fabulous creative designs, inspired by the Great Gatsby theme, are truly breath-taking.
Best of luck at the upcoming Texas Cup Competition!
Photos courtesy of The Blooming Idea, The Woodlands, Texas