Spring has sprung! The daffodils, tulips and other spring flowers are waking up from their slumber. Hyacinths are our favorite flower this month, mostly because of their wonderful fragrance that could only be described as truly springtime!

ABOUT HYACINTH

• Use: Flower
• Type: Bulbous Perennials
• Height: 6in – 14in
• Meaning: Rebirth
GROWING HYACINTH

• Requirements: Well-drained, moderately fertile soil. Can be forced to grow early for winter indoor displays.
DESIGNING WITH HYACINTH

• Blossom Size: 4″-8″ tall
• Texture: Waxy
• Fragrance: Strong

• Silhouette: Dense spike of flowers
• Vase Life: 4-7 Days
• Colors: Blue, white, pale yellow, pink, red or purple
• Flowering: Spring to Autumn
• Flowers Available: Jan-Jul and Dec
ABOUT HYACINTH



The beautiful spring hyacinth is a definite signal that spring has finally sprung! They are a short plant, but covered in highly fragrant, tiny bells. Perfect for any garden close to a window for spring fragrance.
Hyacinths are native to southwestern Asia and the Middle East. They are myrmecochory, meaning their seeds are dispersed by ants. Ants find the hyacinth seeds and take them to their burrows where they germinate. (who knew?)
Hyacinth popularity rose to fame during the era of Tulipmania in the Netherlands, where they were majorly cultivated.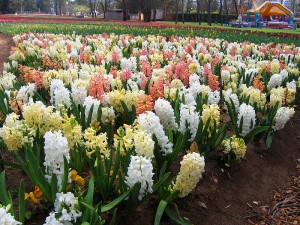 What's In A Name?
The hyacinth name comes from the Greek divine hero, Hyacinth, who was admired by the god Apollo. One day, as he and Apollo were throwing the discuss, Zephyr, the West Wind, blew the discuss and killed Hyacinth in a moment of jealousy. Apollo refused to let Hades claim Hyacinth and instead created flowers, the hyacinth, from his spilled blood.
Today, the Spartan celebration of Hyacinthia is observed every summer. This story also inspired the Mozart opera, Apollo and Hyacinth.
HYACINTHS AND CELEBRATIONS

Rebirth Celebrations
Hyacinths have represented rebirth in many cultures. They are often associated with spring, but especially Easter. Flowers for Easter are often soft, pastel colors and the hyacinth offers just that, and a wonderful spring fragrance to accompany it.
We also see hyacinth used in personal religious ceremonies like christening and baptism. Once again, it is the perfect flower for these because of it's flower meaning of rebirth.
Hyacinths and Nowruz

Hyacinths are used in the Haftseen table of the ancient Persian celebration Nowruz (نوروز), or the New Year, which has been celebrated for over 3,000 years. The holiday begins on the first day of Spring and is a celebration of new life.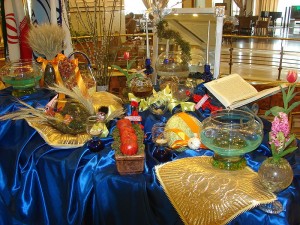 For the Haftseen table, people place traditional symbols of life, (namely fire, earth, water, air, plants, animals, and human) in the most aesthetic ways possible. Examples include: Hyacinths represent the coming of spring, apples for beauty and health, garlic for medicine, candles for enlightenment and happiness, and many more. The family will gather around the Haftseen table in anticipation of spring.
Whatever the occasion, spring is always a GREAT time to send a potted blooming hyacinth to a friend of family member.
WE WANT TO HEAR FROM YOU!
Do you grow hyacinths in your garden? Or have you designed or received a beautiful arrangement filled with these gorgeous flowers? Post a pic in the comments below and we'll add it to this post! We can't wait to hear from you.
*Note that this is FSN's favorite flower of the month. The actual flower of March is the daffodil.

Related Articles:
Spring Has Sprung With An Abundance of Spring Flowers
If Easter Flowers Could Talk…
Passion For Purple Flowers
Easter Flower Options
This post is brought to you by local Shreveport, LA florists.
No where near Louisiana? No worries, use Flower Shop Network's handy directory to find a real florist near you!