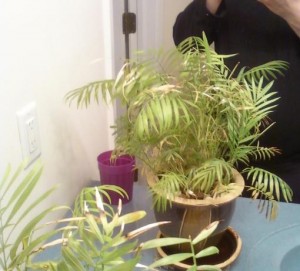 Ask The Plant Expert: Hi Jamie, I came across your info via google and was wondering if you could possibly help me identify two plants that we have at our house.
I am ultimately trying to find out if they are hazardous to cats but have not had any success at identifying the names. I would sincerely appreciate any help and have attached pictures.
Sincerely,
Karen
Flower Shop Network Plant Expert Reply: What you have are Chamaedorea elegans also known as parlor plams, Neanthe bella palms, or table top palms. They are not poisonous to cats or dogs.