Back in December, Central Square News (the Central Square Florist blog) addressed the issue of "In Lieu of Flowers" concerning funeral flowers. It seems the question concerning the appropriateness of sending sympathy flowers surfaces over and over again. The 2003 Flower Shop Network newsletter – In Lieu of Flowers addressed the importance of flowers in the bereavement process. In fact, there have been many studies that prove the importance of flowers during times of emotional stress. But, I realized that the reason this question comes up, time and time again, is that people are uncomfortable with funerals and don't want to make any mistake when it comes to showing their sympathy and support.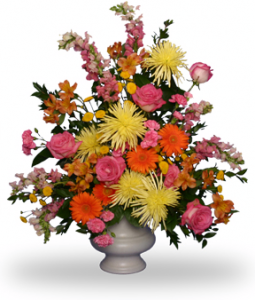 Understanding some of the terminology used in obituaries can help elevate some of the questions people have concerning funerals and what is appropriate. As Central Square Florist explains the term "in lieu of flowers" gives you the option of sending a donation instead of flowers – it is acceptable to give both, flowers and a donation. This phrase, however, does not state that the family does not want flowers. If flowers are not wanted at the service, the term "please omit" will be used.
Flowers are one of the most thought ways to express your sympathy, but ordering funeral flowers can be a frightening experience for some. Not all families deal with funerals the same way. When I was growing up, my parents didn't believe that children should be exposed to funerals. As a result, I was unprepared the first time I needed to send flowers to a funeral. I was in college and a friend was killed in a car accident. I remember calling the local florist shop; I rambled on about needing flowers, not knowing what was appropriate or what information the florist needed; luckily the florist was very patient – walking me through all the steps and making suggestions. It would have been helpful to have some kind of guide.
As always, Flower Shop Network tries to give it's reader pertained information about anything concerning flowers. In fact, the FSN Funeral Flower Etiquette newsletter discusses everything from the types of funeral flowers to the appropriateness of sympathy flowers based on culture. Although the newsletter is very helpful, I found that InLieuOfFlowers.info had a couple of really neat tribute guides. The Tribute Preference by State lists five types of floral sympathy categories (baskets – sprays – arrangements – wreaths, hearts & crosses – green and blooming plants) and then lists the categories in order of frequencies for each state. The Tribute Guide by Relationship lists the type of floral piece and which is appropriate to send by relationship.
So although "In Lieu of Flowers" is an option when you need to convey your sympathy remember it doesn't mean no flowers. Flowers truly touch the heart and give comfort, so don't be afraid to send flowers. If you are unsure of what kind of funeral flowers to send,
Talk to a local florist, read the FSN newsletters or check out the sympathy guides at InLieuOfFlower.info. If you have funeral flower questions, I'm always here to answer them. Remember, the funeral flowers you send will give convey a message of comfort and support in a difficult and emotional time.
Did you know, you can use FSNfuneralhomes.com to find a funeral home anywhere in the US and Canada.