We've all heard about it, SEO this, SEO that.. but what is SEO?
SEO means Search Engine Optimization, or optimizing your flower shop's website to best be found in search engines, like Google, Bing or Yahoo Search. Now, this may seem like a daunting task, but it's really quite easy to get started and I bet you've already done more for SEO than you realize!
First off, I know local florists are not web developers, and most use a hosting service with ecommerce store templates, which is great! Most developers include basic SEO into their sites, especially on the backend and in the code of their templates.
For this post, we are going to look at basic SEO strategies on the front end of your website, which is something any florist can do without having to call up their webmaster every 5 minutes. I want this post to be helpful for all levels of users, so I won't go into meta tags and code speak this time.
Learn what keywords are and how to use them
What are keywords? Keywords are those words or phrases you type into search boxes to find what you are looking for on the web.
If you want to find pictures of rose arrangements, what would you most likely put into a search box? "pictures of roses, rose pictures, rose photos, rose arrangements" … the list can go on and on. Those words and phrases are all keywords. All of those are going to get you to web pages with pictures of roses.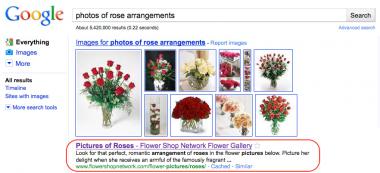 Will searching for "photos of rose arrangements" get you to that website's home page? Probably not. Remember this: not everyone who comes to your website lands on the home page.
Think of all of the pages on your website as their own little landing pages. If you were to look at each page individually and ask, "What would I have to type in a search box to get to this page?" Those words are your keywords. Now, before you go adding the keyword "photos of rose arrangements" 200 times on your page, remember this: search engines are very smart and can somehow tell if you do add "fluff" on your pages and will sometimes penalize for it. Just write your page copy naturally and with your customers in mind, they ultimately are your actual readers… not the search engines.
For SEO, your pages should have at least:
Actual, Typed Text – It may sound a little strange, but some web designers who do not follow SEO practices will actually use graphics for all of the copy on the page. In their defense, only certain fonts can be used on the internet (for now at least) so it does make it look pretty. Just mix the 'pretty' with actual text. Search Engines cannot 'read' images.
For Example: Your logo. Many florists will put a logo image on their site that includes their address and phone number. Well, if your name, city and phone are never actually written out, the search engine won't know any of that. Logos are great, just somewhere on your site you need to repeat this information typed out.
Shop Information – Having your shops information on your page is important. You should always include your shops name, city and state locations, and phone number on every page.
Descriptive Copy – On your individual product pages you should have descriptions of that product.
For Example: Say you have a product page for a summer flower arrangement. Keywords you should use are: send/ing summer flowers, summer flower arrangement, Stargazer lilies, pink roses, red Gerbera daisies, and whatever else flowers you used. That's really all you need.
Creating long paragraphs full of keyword-filled text takes up too much of the search engines time. Each page gets only a small amount of the search engine bot's time, so the more you can say in the least amount of space the better.
For our lucky FSN Members, we do all of the SEO work for you on our Florist2Florist Ecommerce Websites and with our custom controls you can expand your SEO your way!

Find Linking Strategies
If you had to sum up SEO in two words, one would be keywords, the second is linking. Anytime someone links to your page or any page on your website it gives a little boost to your site's rankings.
Even if you are just linking one page from your site to another one of your pages. For instance, on your "About Us" website section, if you mention weddings, link to your wedding section. For the most part, your site's navigation links your site together, but go through your site as if you were a user. If you mention weddings, they should be able to click directly to the weddings page. If you mention a specific arrangement, link the name to your arrangement. This type of linking is internal linking.
Again, don't go overboard. Most internet users are savvy enough to see right through SEO fluff, so it's best to work it in where it fits, and don't fit it in where it doesn't go.
Backlinks
Don't think your site is the only place to get links. There are thousands of other sites on the web just waiting for you to make your 'mark.' Backlinking is when another website links to your website.
Getting backlinks may sound like a lot of work, but it's really simple. Did you know just by commenting on this post you are adding a link to your website on our blog? If you commented on ours, and a few other blogs daily, imagine how many linkbacks you will have. Participating on blogs is a great way to begin your linking strategy.
Search engines give a sort of rating to each link to and from your page. A great tip is to link to authorities. When you link to popular or higher ranking sites, it gives that link more 'weight' than one to say, your neighbor's cousin's blog. For florists, it's a good idea to link to authorities in your field like Flower Shop Network, the SAF, or AIFD. Linking to your city's website or chamber of commerce is also a good choice. This gives you more credibility in your city, plus gives your customers helpful links to your important city websites.
Social Media & Online Community Networking

Posting pages and articles from your site on Facebook also helps with backlinking. Google and other search engines are starting to 'read' Facebook, Twitter, and other networks now, so start early to be ahead of the curve! Joining social networks and other social groups can also increase awareness to your shop. Just by joining a social network, you will be able to put a link to your shop's website on your profile page. Even if you aren't really active on that social network, anyone looking for you will be able to find at least a link your website. (And hey, it's free, so why not?)
Also, look for opportunities to network in your own community. Many towns have websites where they list their local businesses, events, photos etc. This could be the best platform for your local flower shop to thrive. List your website on your town or chamber of commerce's website. Update your towns events to include any workshop, sale or promotion you might have. Upload photos of your flower arrangements or even from weddings and events in your community.
Share and Share Alike
There are thousands of websites out there just waiting for you to put your mark on. Don't go overboard though. Just think of what networks your customers from your community would most likely use. Use these websites to your advantage by simply utilizing all of their great features. These networking websites cannot exist if users don't fill them with content, so the small city networks would be eager to promote you, just as you promote them.
Link exchanges are another great way to boost the traffic/rankings of your site. Find other local businesses in your area to exchange links with. Say you work with the same photographer, caterers, wedding coordinators day in and day out. Do you have a link to each others websites on your pages? If not, that's a great way to network! Shoot them an email and request a link exchange.
The internet is a big place, it's time you used it for your advantage! Start promoting your shop everywhere, soon your shop will be your community's favorite florist!