What is Instagram??
Instagram is a popular smartphone app and social tool that allows you to easily create beautiful photos and share them to many different social networks with just a few clicks.
From florists:

"I like the fact I can push pictures right to FB in a hurry…since I have so little time to do anything anymore!!!!" – MaryJane's Flowers & Gifts, Berlin NJ

"We love Instagram! We use it to show off currents wedding samples. It's great because it connects right to Facebook and allows us to show our work to our fans. An online portfolio, if you will" – Perfect Rose Floral Design, East Islip NY

"I like using it to take quick little teasers of bouquets, centerpieces etc that I can post on Facebook and twitter to show my followers what I'm currently working on. Pictures always get me the most activity on my Facebook page, so using Instagram is a quick + easy way to keep my Facebook page interesting." – cattleya chic inc., Red Deer AB
Almost like Twitter, but with photos instead of messages, Instagram allows people everywhere to share their daily lives with the world. You can share these photos with most other social networks, but Instagram also creates a beautiful stream of your photos for others to follow. It's sort of like a photo journal.
Why Instagram?
Instagram has grown exponentially since it's appearance in 2010, with over 100 million active users monthly. 59% of top brands are now using Instagram.
Using filters, you can create great-looking photos on the fly.
Easily share photos with your social networks.
Very user-friendly.
Geo-targeting lets you reach your local audience.
Getting Started on Instagram: The Basics

First, decide whether you want to set up an account just for your shop, or for personal use. If you make one for the shop, remember it should always be about the shop. If you want to post photos of your family, pets or vacation, you might want to stick to a personal account. You can always start with a shop account and create a separate one later.
Home Screen
The home tab shows a feed of photos posted by you and your friends. You can like and comment on photos in this feed. This works similar to your News Feed on Facebook or the home page of Pinterest.
Explore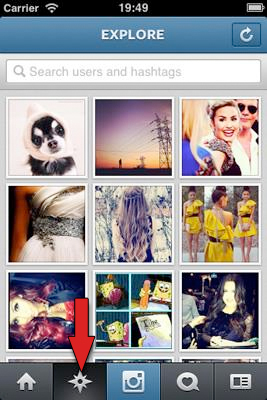 Use the Explore Tab to search for other users, and explore hashtags. Try searching for your city's hashtag and see what's happening locally.
News Feed

The News Feed displays all likes and comments you have received on your own photos. By switching to the Following tab, you can see the photos that your friends are liking and commenting on.
Your Profile
The Profile Tab shows your short bio and all Instagram photos you have posted. It's also where you can edit your Profile information, and adjust your Account Settings.
Photo Map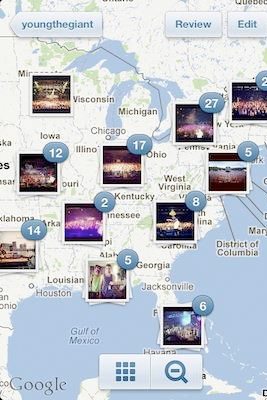 Showcase where you've taken your photos, or explore where others have taken photos on a map. Maps take you beyond recently posted photos and let you rediscover previously Instagrammed memories, (such as floral conventions or destination weddings.)
Taking Photos With Instagram
Camera
Tap the camera button in the center of the menu to take a new photo or upload one from your photo phone's photo albums.
Taking a Photo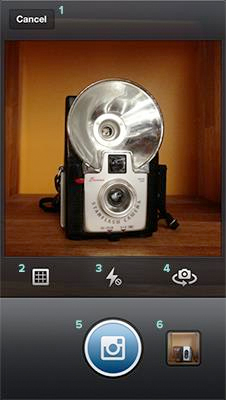 The camera button will open the camera in Instagram. Here you have (1) the option to cancel, or take a photo. You can simply take your photo by clicking the camera button again (5). To choose a photo from your phone's library, click the little thumbnail of the last photo you've taken (6).
There are a few other icons here you can use to help take the best photos.
For instance, the grid icon (2) enables a grid for your camera to help level photos.
With the lightning icon (3) you can turn the flash on and off.
The camera rotate icon (4) will switch between the front-facing and back-facing cameras.
Once you've taken or selected a photo, you will move to the next screen.
Scaling & Enhancing Photos
Optimize your photo by pinching and move the photo to adjust what content fits within the square frame. Use the grid to aid in framing the photo. Select Crop (2) when you are satisfied to move to the next screen.
If you'd like to select a different photo from your library, choose one from below. Drag the three lines (3) upward to expand the number of images visible in your library.
Choosing a Filter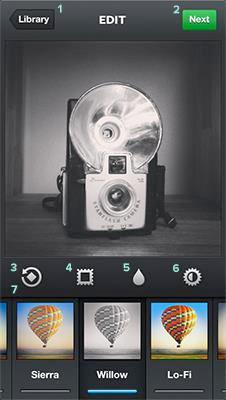 Once you've chosen your ideal photo, you can further adjust the look of it with photo filters. At the bottom of this screen (7), you have many different 'looks' you can give your photo. Each filter works different on different photos, so try them out and choose the one that makes your photo look it's very best.
There are also a variety of extra tools you can use to enhance your photo.
The first is the Rotate tool (3) and is used to rotate your photo.
The Border icon (4) allows you to toggle borders on and off (some filters do not have borders).
With Blur icon (5), you can choose between a linear blur ( – ), radial blur ( o ), or no blur. For example, you are taking a photo of a flower arrangement in your shop, and the background is a busy worktable. Use the radial blur ( o ) to keep your arrangement in focus and blur out the busy background.
Lastly, Enhance (6) can be toggled on and off to enhance photos (sometimes it works well, sometimes it doesn't. It depends on the photo and what filter you've chosen.)
Once you are satisfied with your photo, click Next (2).
Posting Your Photos
If you would like to make more adjustments, you can choose to go back to Edit (1).
It's very important to add a brief description to your photo in the box where it says "Write a caption…" (2).
Use hashtags when describing your photo to help it get discovered, including your personal hashtag and city hashtag. (Keep reading for more info on hashtags.)
Add to your Photo Map (3) is optional, and I only recommend doing this if you are in your flower shop, or a location you want to be made known. Do not turn this on if you are at your home.
Name this Location (4) allows you to name the location you are at, or choose from existing locations. It is best to choose an existing location and not create a new one to keep from creating multiples of the same location. (Location names are originally from Foursquare's location database. If you do not see your location, you may want to download Foursquare to add it.)
Sharing Photos – Here is where you can choose to share your photos with others via social media. I recommend setting up your Instagram to share photos with your Facebook Business Page. (Keep reading for more info on connecting with Facebook.)
Connecting Instagram to your Facebook Business Page
You must be an Administrator on your shop's Facebook Business Page.
In Instagram, click your Profile tab and then choose the settings button in the top, right corner (it looks like a gear.)
Choose Share Settings from the Settings menu.
If you have not yet done so, you will need to connect Instagram to Facebook on your device. When the Facebook authorization page appears, make sure that the Facebook username at the bottom is an administrator of the brand's Facebook account.
If you need to switch Facebook accounts, choose "Logout and unlink account" from the Facebook options page, and reconnect through the instructions above.
Click Share Photos To to select where your Instagram photos will be posted on Facebook. By default, it is your personal profile's wall.
Instagram will ask "Allow Instagram to Manage Pages" if you approve, this will allow Instagram to post to a Page you admin, not your personal Wall.
Once Instagram is granted access, you can choose what Page you would like to share your photos with, such as your flower shop's Page. Keep in mind you have to select Share to Facebook each time you post a photo for them to appear.
Sharing To Other Social Networks
Once you've selected to Share to your Facebook Page, be careful where else you share it so you are not posting double. For instance, if you have your Facebook set up to share to Twitter, and you select Twitter on Instagram, you will have 2 Tweets about 1 photo. Just keep in mind how your feeds are working before posting. My suggestion is this: Posted to Instagram -> Shared on Facebook – > Facebook Feeds to Twitter.
What Are Hashtags?
You might have used these before in Twitter, but really didn't know why.. Well, in Instagram, it becomes completely obvious.
For example, you love your dog and post a photo of him with the tag #pomeranian. When you post this photo, #pomeranian becomes a working link to all other photos tagged with #pomeranian. But what does THAT mean? You just opened a zillion photos of Pomeranian puppies who live all over the world. You can now connect with people who share your interests in surprising new ways.
How To Add Hashtags To Photos
It's easy, simply use the symbol # in front of a keyword when typing a photo caption, like #hashtag. You can also add hashtags to photos already posted by commenting on those photos using #hashtags.
How Can Florists Make #Hashtags Work For Them?
It's all about choosing the right hashtags. Here are some examples of different hashtags used by florists and the pros and cons of each:
For instance, the hashtag #florist is going to link you to all sorts of photos by florists, of florists, and more — from all over the world. Using this tag probably won't get you found in your local city (con), but would have a good chance of getting seen by other florists all over the world (pro).
So what about a city tag, #yourcityST (#StLouisMO)? This will get you found in your city (pro) and is excellent for medium-sized cities where only a few photos are posted every month. In very large cities, you might get lost in the shuffle (con). This is your chance to show off to the locals.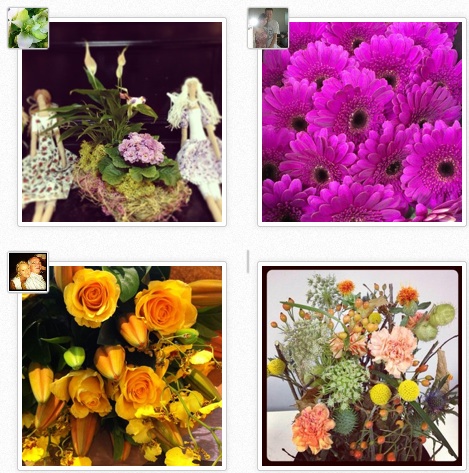 Another example, #yourcityflorist (#stlouisflorist ), this I would not recommend. First of all, not many people will ever see this hashtag without being prompted (con). Secondly, your competitors could easily attach themselves to this hashtag and you could be promoting them when you use it (con).
However, if you enjoy using Instagram, you might consider creating a few custom hashtags to use, such as #ShopName_wedding to group all photos from weddings together (pro). Change wedding to be any other type of regularly posted photo.
If you do not want to make a separate account for you shop, you can use custom hashtags to group photos taken at the shop together, #myshopname.
#FloristsOfInstagram is a hashtag group made by florists. This is a way to show off your work and meet other florists from all over the world. This is also a fun hashtag to browse.
What To Do On Instagram
Create great-looking photos to share.
Geotag your location when posting from your shop. People can click this tag and see ALL photos posted from your shop.
Encourage others to tag your products in their pictures with your shop's custom hashtag.
Find users that get results and use similar strategies.
Browse hashtags to find inspiration. ( #floristsofinstagram )
What NOT To Do On Instagram
Don't post pictures that you did not take. (Instagram is all about showing the world life through your eyes.)
Do not post photos of pictures you've taken from the internet. (Yes they may be funny, but that's not what Instagram is about.)
Don't offend. Don't post about anything that can be seen as offensive.
Instagram Privacy Information
Instagram is a public social network, so all photos posted can be liked or commented on by any user. However, you do have the option to keep photos private. (If you are using Instagram for business, this is not a good idea.)
What Instagram Can NOT Do:
Instagram can't sell your photos to anyone, for example. It simply doesn't have permission.
Instagram can not take your photos and change them in any meaningful way.
Instagram does not own the rights to your photos.
No one can add to or change your photos in anyway.
What Instagram CAN do:
An advertiser can pay Instagram to display your photos in a way that doesn't create anything new. This is similar to Sponsored Stories on Facebook.
So a company can put up a box that says "Our favorite Instagram photos of this bar!" and put user photos in there, but it can not take those photos and modify them, or combine them with other content to create a new thing. Putting a logo on your photo would definitely break the rules, but putting a logo somewhere near your photos? That would probably be okay.  If all of this seems vaguely familiar, it's because it's basically what Facebook has been doing with Sponsored Posts for months now.
Most of this sponsored advertising is for major companies. Like, you might have seen a Doritos commercial using Instagram photos that have used the hashtag #doritos.
Terms like are becoming more and more common as the web gets more connected. More info on Instagram's TOS.
Still Worried About Your Content?
Here are some tips to protect your photos from being taken without your permission (for anywhere on the internet).
Search for an app that will allow you to Watermark your photos with your shop's name. No one will want to use a photo that has someone else's name on it. (There are many free apps that will let you do this.)
Use small, low-resolution versions of photos you are most concerned about (like from photo shoots). Instagram photos are already this way and are not the most desirable when there are hundreds of other quality stock photo resources.
FSN Member Florists: Adding Instagram To Profiles/Websites
You can now add a link to your Instagram page to your FSN Extended Profile and your FSN Standard or Premium website.

Simply go to FSNf2f.com and log in.
At the very bottom of the orange side menu, under Marketing, click the link, Edit Social Media.
In the box next to Instagram, you will simply paste the URL to your Instagram Web Profile.
Example: http://instagram.com/YOURUSERNAME/
You can choose to add it to your website's sidebar (optional) by clicking the checkbox next to the Instagram Icon.
Click Update and it will save.
Benefits of Instagram
There are many apps out there that let you quickly edit photos and post them to other social networks from your smartphone. However, the quickly growing community of Instagram is too big of an opportunity to miss out on, especially when it is so easy. Once you start following some amazing designers and getting to know these industry greats from all around the world, the benefits will be clear. Instagram lets you reach so much further with your visual content, while at the same time it's a tool for creating content on other social networks: Facebook/Twitter/Pinterest. It's kind of like, as the old expression goes, killing two or even three birds with one stone.
Instagram has become a way to communicate without words, but then again, they say a picture is worth a thousand.
If you have ANY questions at all, ask away in our comment section below!