For our favorite flower this month*, we chose Delphiniums. Their rare blue colors and love of cool temps make them a perfect choice for January flower arrangements. Read all about this fascinating flower in this article!
DELPHINIUM/ LARKSPUR

Use: Flower
Type: Perennial
Height: 18″-7′
Name Meaning: Heavenly
GROWING
Requirements: fertile, well-drained soil. Stalk tall varieties.
DESIGNING
Blossom Size: 2½" across
Texture: Satin
Fragrance: Light, sweet scent

Silhouette: Spear-shaped stalk
Vase Life: 5-8 Days
Colors: Blue, purple, pink, yellow, orange, white
Bloom Season: Fall
Flowers Available: Year Round
ABOUT DELPHINIUMS/ LARKSPUR



Often called larkspur, the Delphinium is a genus of mountain flowers found throughout the northern world, and in some mountainous parts of Africa. They are called larkspur because of their unusual spur-like flowers. The front of the flower looks normal, but behind the petals there is a little spur sticking out, making it look like an elf's cap.
They are a wonderful summer flower to grow for great color, and a staple in English cottage gardens. Because of their height, use as a gorgeous back-border flower. The Delphinium enjoys cooler temperatures (70° ish) and thrives in northern summers and high elevations. They love the sunshine and will grow faster and flower sooner during long summer days.
The Delphinium has become a florist favorite because it is one of the few, large flowers that are actually natural blue. (It's no surprise that it was traditionally used to make blue ink and dye.) The little larkspurs look beautiful in floral designs because of their tall flower spikes.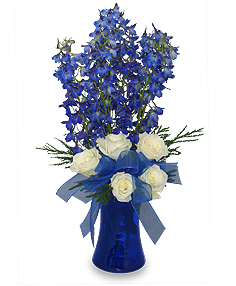 Not Everyone's A Larkspur Fan
As much as we love this beautiful flower, they are hated just as much! The larkspur is very toxic and often grow in the same fields cattle graze from. There are many reported cases of dead cattle caused by ingesting larkspur.  Herdsmen do their best to keep cattle away from known Delphinium locations during growing season, but many wild varieties are all but wiped out. So remember, do not eat larkspur!
What's In A Name?
The name Delphinium comes from the Greek word delphis, meaning dolphin. Why was this flower named after ancient dolphins? That's easy! The flowers are the same shape as the bottle-nose dolphins! That makes any Delphinium flower arrangement perfect for dolphin lovers.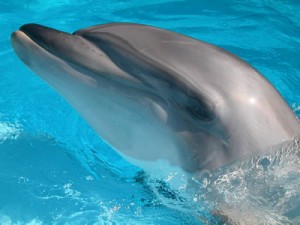 TYPES OF DELPHINIUM
There are two natural types of Delphiniums. The Belladonna Delphinium are typically smaller, with loose, upright flower pedicels. This is the type more common to see in the wild, but still used by florists as unique filler flowers. The Elatum Delphinium are the larger type with very tall flower spikes and bigger flower heads. You've probably seen these in landscaping and flower gardens. There is a third type, the Pacific Hybrid, that are even BIGGER than the Elatum Delphiniums.
Delphinium Belladonna (left) and Delphinium Elatum (right)
We want to hear from you!
Do you grow Delphiniums in your garden? Or have you received a beautiful arrangement filled with these gorgeous flowers? Post a pic in the comments below! We can't wait to hear from you.
*Note that this is FSN's favorite flower of the month. The actual flower of January is the carnation.
This post is brought to you by local Mission Hills, CA florists.
No where near Cali? No worries, use Flower Shop Network's handy directory to find a real florist near you!