CHRYSANTHEMUM
Scientific name: Asteraceae
Use: Flower
Type: Herbaceous Perennials
Height: 2-3′
Form: Mass
Astrological Flower: Capricorn (Dec. 22 – Jan. 19) Virgo, (Aug 23 – Sept 22)
GROWING
Planting Zones: 3-9
Soil Requirements: Full sun and well-drained soil.
DESIGNING
Stem: 18-24″
Blossom Size: 2-4″
Texture: Satin
Silhouette: Dense/Pinwheel
Colors: Reds, Oranges, Yellows, Purples, Whites, Browns, Pinks, Combinations,
Bloom Season: Fall
Flowers Available: Year Round
We often hear chrysanthemum associated with things like tea and seems to be only used in early fall. This doesn't have to be the case. The chrysanthemum is truly the Cher of the flower world. Did you know there are 12 different styles of flower heads for the chrysanthemum? Not to mention the vast color options! That's right!
ABOUT
There are two types of chrysanthemums: the Exhibition and the Garden. The exhibition variety (also called florists mum) are available in the most wide range of colors and styles. These are the best type for your fresh cuts. The straight growing sprays will produce several blooms per stem and will look great in any arrangement! The garden mums grow in hardy, bushy mounds unlike the exhibition styles and are great for your landscaping. They also tend to have a longer flowering season.
There are many culinary uses for the garden chrysanthemum – mostly in teas, but in some parts of the world the mum is a staple. (If you plan to cook with the chrysanthemum, try the Garland or edible chrysanthemum.)
HISTORY
The roots of the chrysanthemum run deep. It was first cultivated in China as far back as 15th Century B.C. and is still highly prized today. In fact, one of the highest honors you can receive in Japan is The Supreme Order of the Chrysanthemum from the emperor himself. There is a great rice wine found in Korea flavored with chrysanthemum flowers called gukhwaju. As mentioned before it is a staple in Asian cuisine and the inspiration for many Asian festivals and traditions.
The flower made its way to Europe around the 17th century and has been a favorite ever since. The name "chrysanthemum" came from Swedish botanist Karl Linnaeus who combined the Greek word for golden, chrysos, and anthemon meaning flower. The ancient mums were different than the varieties we have today. Early illustrations show them as small, yellow daisy-like flowers.
The mum has thrived in the United States since colonial times. Mostly recognized as a fall flower, it adorns our hay bails and pumpkins during autumn. The golden and bronze beauties work well with the colors of fall. For this reason they are the number one potted plant in the US. Contrarily, in some European countries the mum is associated with grieving and sympathy.
In late October Lahr Germany goes Chrysanthemum crazy! Check out the Chrysanthemum Festival Photos.

TYPES
We don't usually think of chrysanthemums as being a very versatile plant, but truly they are a flower with a flare for the dramatics! The variety in mums is unreal. From the daisy look-a-like semi-double to a crazy alien-like spider and everything in between, the chrysanthemum is full of surprises!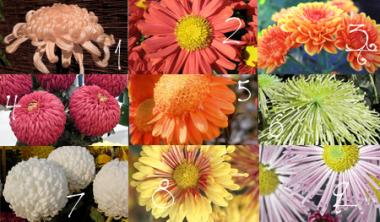 1. Irregular Incurve – A double flower with loosely upturned florets. This giant of the chrysanthemum world has a little skirt of florets which are not incurved.
2. Semi-Double – Like the single, this daisy-like beauty has ray florets surrounding a central disk. The rows of rays can be single, double (as shown above) or as many as seven.
3. Decorative – A smaller bloom, usually flat on top with center ray florets incurve and the lower reflex. The inner disk rays are usually completely concealed.
4. Reflex – Typically has a flat top with downward curving (relfexing) rays. The florets overlap each other creating a bird plumage or mop-like appearance.
5. Anemone – Similar to the semi-double but with a raised, rounded center.
6. Spider – A very funky flower that looks great in any arrangement! The fine florets are long, tubular and tend to curl upwards.
7. Regular Incurve – Large flower heads with evenly upward curving florets.
8. Spoon – Similar to the semi-double but with tubular ray florets which are spoon shaped at the tips.
9. Quill – Daisy-like flower head with tubular ray florets which are open at the tip.
Pompon – Similar to irregular incurve but tend to be more open and smaller.
Single – A single row of ray florets surrounding a central disk.
Brush – Also called thistle chrysanthemum, this flower head has a single row of tubular ray florets which point upright.
EXTREME MUMS
Chrysanthemums are more than just fall flowers. Their variety enables you to use them with any styles. They are commonly used in Ikebana, the Japanese art of flower arranging. Use the perfectly round reflex mum in stylish contemporary designs or the zany spider mum in your next party arrangement. You might even try these amazing chrysanthemum uses:

Chrysanthemum bonsai trees are a fun and unique hobby and can make for an awesome conversation piece. They take a lot of care but the end product is well worth it!


Feeling up to a challenge? The fabled Thousand Bloom Chrysanthemum is just that! This one was done by the Longwood Gardens in Pennsylvania. Known in Japan as Ozukuri, this plant is MASSIVE! Yes, that IS one plant with a 718 giant blooms! Check out the video below to see how it was done.

Send a mum to your someone special today. Try this whimsical flower arrangement, or this orange and green contemporary floral design.