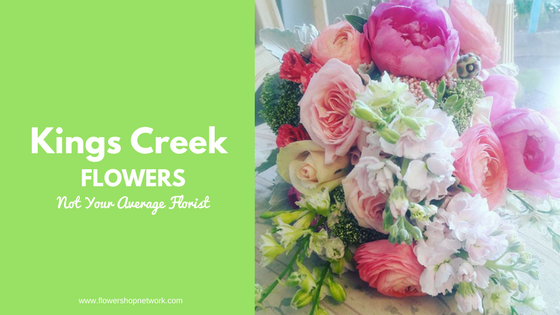 Located in Miami, FL is a flower shop with an unusual past. Emma Borrell worked as a food nutrition specialist at South Miami Hospital and also catered events. As a caterer, she specialized in fruit carving, often carving company logos and other designs out of fruit. This all changed in 2005 when she was presented with the opportunity to purchase a flower shop. Kings Creek Flowers and Gifts was born and has continued to flourish.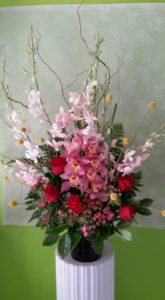 Loving a good challenge, Kings Creek Flowers will take on just about any kind of custom order that is thrown their way. They do their best to fulfill any design request they receive, even those that most other florists would refuse. They like to stand out from the crowd and be a little different. Modern designs, in particular, are their favorite.
Kings Creek Flowers stands out from the crowd for more than just their floral designs. While most businesses turn pets away, Kings Creek Flowers welcomes them with open arms! Clients will often find Emma's dogs, Bart, Bear, Lucy, and occasionally their cousin Charlie, hanging out around the shop. Her dogs love meeting new people, and Emma welcomes her clients' pets, as well.
It's not every day that we have the pleasure of seeing the hard work of our florists first hand. One of our Account Managers, Judi, recently had the opportunity to work with Kings Creek Flowers for her wedding. Judi has worked in the floral industry for over 35 years and said the work that Kings Creek Flowers did for her wedding is some of the most beautiful she has ever seen.
Emma's favorite thing about being a member of the floral industry? Witnessing the beautiful smiles of so many people, the excitement, and all of the gossip and yelling when you bring an arrangement into an office.
If you're ever in the Miami area, stop by Kings Creek Flowers for a visit. They'll be happy to see you!