First of all,
DON'T WAIT!!
Buying Valentines Day flowers early ensures you get the BEST QUALITY flowers, BEST SERVICE, and they will arrive ON TIME!
Valentines Day flowers mean so much more than just a bundle of roses put together. If you want to really show how much you care, order EARLY! Take just a few minutes to call your florist and talk to them about your sweetie. When a florist knows what type of person they are designing for, they can make it truly personal.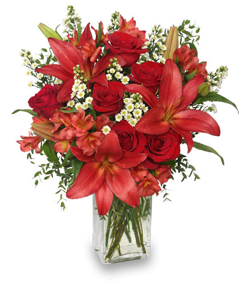 Just by telling your florist just a few things about your honey, such as their age and basic interests, they will create something that is sure to be a hit! (And, guys, take it from a gal who knows, you WANT to send your girl beautiful, meaningful flowers!)
It a recent news article, one of our florist friends, Marybeth Flowers, owner of Flowers by Flowers in Parkville, Md., says, "RUN, don't walk away from the idea of giving roses to your sweetheart."
Of course, roses are the traditional Valentine's gift, but why not send her a flower arrangement to truly IMPRESS?! Tell your florist her favorite flowers and colors and let them do something truly personal! (Trust me guys, style goes a long way to us ladies!)
"You don't need to know every flower available or even the types of flowers the person likes most," said Marybeth in her interview. "You know this person. You know how warm they are. Just look at the way they dress. If they are a flannel or corduroy kind of person, then we can develop something like a bohemian bouquet or something with a prairie look."
So, what happens if you DON'T order Valentine's Day flowers EARLY?!?
Valentine's Day Flower Deliveries

Well, waiting til the last minute to order Valentine's Day flowers can put you out of luck with deliveries. Florist have a tight schedule on Valentine's Day; ordering early ensures you a guaranteed spot for delivery. If your delivery requires special accommodations, such as a specific time, then it is especiallllllly important to order early. (Getting the message here, guys?!)
How florists help: Often, to account for these last minute Valentine's Day deliveries, florists will add temporary delivery drivers. Even then, you're still playing it risky!
How you can help: Not to sound like a broken record, but order early… Another thing you can do is have your flowers delivered to your sweetie on FRIDAY. (Valentine's Day falls on a Tuesday for 2012) It's a great way to kick off a Valentine's Day romantic weekend.
Valentine's Day Flower Pickups
Last minute Valentine's Day flower pickups is also a bit of a gamble. Don't be one of those guys standing around the flower cooler staring at the last few flower arrangements left, and don't just pickup a last-minute bouquet from a street vendor or grocery store either. (We will know, guys, we will know…)
How florists help: Florist fill their coolers to the brim with pre-made Valentine's Day orders, but trust me, they go fast! These are also the ones that go out on last-minute deliveries (if there are even any available). Many florists will open their flower shops early and stay late on Valentine's Day, but doesn't your sweetie deserve more thought than the last bouquet in the cooler?
How you can help: Order early! Pick up flowers for your honey on Friday instead of Tuesday!
This post is brought to you by local Scottsdale, AZ florists.
Not in Arizona? No worries, Flower Shop Network connects you to a real local florist in your town or city!