PERIDOT GREEN FLOWERS
August's favorite flower color is Peridot green. This year, we are spotlighting unique flower colors for you to use in custom flower arrangements, wedding bouquets, centerpieces and anywhere else you might need great-looking flowers. To make the chosen colors a little more interesting, we are starting with birthstone colors. This month it's Peridot, or bright green. (Click here for all of our color of the month posts)
Peridot is one of the few gemstones that only occurs in one color, green. The intensity and tint of the green, however, depends on how much iron is contained in the crystal structure. The color of individual peridot gems can vary from yellow- to olive- to brownish-green. The most valued color is a dark olive-green.
Flowers in green are just as unique and striking as the gem, this guide to green flowers will help you when choosing flowers for your events or just for fun!
When creating your wedding bouquet,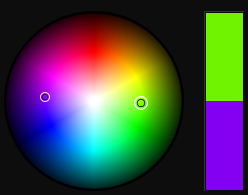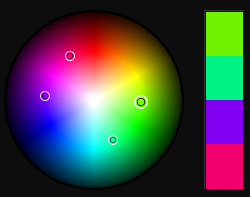 When creating a color scheme using Peridot green, use the color wheel as your guide! Above you see three examples. The first is the complementary color of Peridot green — brilliant purple, which is sure to balance out the bright green. The second is a triad (3) of color complements to light green. Electric blues and hot pinks are sure to add some fun to this combination. You could also go with  tetrad (4) of complement colors. So Peridot green, mixed with a close neighbor, aqua, and balanced with purple and hot pink.
Of course, green looks wonderful all on it's own. Mix different shades and textures of greens together to create a unique and gorgeous flower bouquet.
This is a great flower guide for brides looking for unique color palettes and unusual flowers for their wedding.
Green Dogs Eye Euphorbia




These tiny flowers are a great way to add texture, but also a hint of color into any green-themed bouquet.

Seasonal Availability: May – Dec
Vase Life: 7-10 Days

Green Cockscomb (Celosia)


This flower has perhaps the most unusual texture of all flowers! It looks fantastic as an accent when mixed in a bouquet.

Seasonal Availability: Apr – Nov
Vase Life: 7 – 14 Days

Bells of Ireland




Tall spikes of green flowers are sure to look great in any flower arrangement or wedding bouquet.

Seasonal Availability: All Year
Vase Life: 7 – 10 Days

Green Calla Lily




Everyone loves the calla lily, and the green version is no exception.

Seasonal Availability: Jan – Apr / Oct – Dec
Vase Life: 4 – 8 Days

Green Midori Anthurium




Sedum is a great filler flower to bouquets and arrangements to add color and texture!

Seasonal Availability: All Year
Vase Life: 10 – 24 Days

Green Amaranthus




Very unique hanging flowers with unbelievable texture. These flowers are perfect for cascading bouquets.

Seasonal Availability: All Year
Vase Life: 5 – 8 Days


Green Pitcher Plant




If you really want something unique, check out the pitcher plant. It's a carnivorous plant, (don't worry it only eats insects!) and can be an interesting conversation starter when used in a centerpiece at your next party!

Seasonal Availability: Feb – Mar
Vase Life: 4 – 8 Days

Green Trick Dianthus




This is a unique variation of the carnation, and it's fuzzy texture has won the love of florists everywhere.

Seasonal Availability: Year Round
Vase Life: 10 – 18 Days
The flowers above are all very unique, and florists may not carry them in their day-to-day supplies. If you are interested in using these Peridot green flowers, be sure to contact your florist in advance for their availability status. You may have to have them special ordered, but it is worth it! We've also listed the seasonal availability with each flower, this means they are more easily available during that time, and often times cost less.
This post was brought to you by local Savannah GA florists.
Not in Georgia? No worries, use Flower Shop Network's handy directory of real local florists to find a florist near you!