There's something a little quirky about the town of Gulfport FL, with their Gecko Fest (yes, the lizard), art walks and more. A quote from the Gulfport Merchant Association's website says it all, "We've been called funky, eclectic, artsy, charming, progressive, welcoming, warm, and yes, even weird. We are a small town, but we have a big heart. It's easy to make yourself at home here. Visit us and we think you'll agree."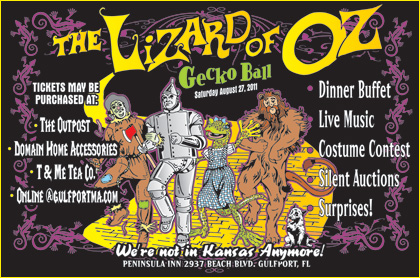 (Definitely not in Kansas anymore)
It is this association that brings local businesses together to make big things happen in their community. Their biggest accomplishment is the beloved Gulfport Gecko Fest that attracts around 40,000+ people to their city every year. To kick off Gecko Fest they put on a unique play, always with a fun, gecko twist. This year's theme was the Lizard of Oz.
One of our florists and Gulfport Merchant Association member did her part to help out with this fantastical event. Karen Lanigan of Karen's Florist of Gulfport helped out with decorations for the set, the costumes and she was also in the cast as a living, 10 foot-tall apple tree! Now that's community dedication!

(If an apple a day keeps the doctor away, she should have no problems!)
Having a florist on your decorating team is always a big plus. Their creativity and out-of-the-box thinking can really help when coming up with set designs and costumes. Who else would think to make a giant, curly willow hat for an apple tree? Or turn the Chamber of Commerce ladies into a poppy patch? (see pic below) Karen worked her magic to make this an impressive event.
Lizard of Oz guests enjoyed themed-drinks, including Geckotinis and Ruby Slippers, as they watched the larger-than-life Lizard of Oz. A silent auction was also part of the festivities with gift certificates, artwork and merchandise from local businesses and artists.
The proceeds from the Lizard of Oz events went towards commissioning artwork to be created for the entrance of Gulfport's Water Front District. It's wonderful to see community businesses come together with a common goal of the betterment of their city. Working together allows you to accomplish big things that seem impossible to do alone.
To think about: What would you like to see happen in your community? What steps can you take to get it done? How can you bring other businesses together to take action?
Photo credit: Karen Lanigan and The Gulfport Patch