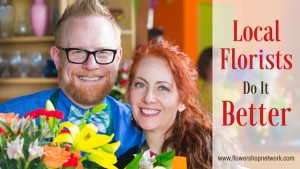 Take a second to think about what the most important thing to you is as a customer? LinkedIn conducted an interesting study investigating the top five things customers see as important. Out of the survey respondents, 48 percent cited value for money, cost, price or competitiveness as one of their three most important things.
The LinkedIn article states that, "47 percent of survey respondents stated that customer service was one of their three most important things. The ability of organizations to help consumers at every stage of the journey is critical here, including the ability and willingness to sort out issues as they arise."
Real local florists are experts in these two categories and blow online wire services out of the water.
What is an online wire service?
When someone orders flowers from an online wire service they order a stock photo of a bouquet and then the order gets sent to a real florist. The problem though is that the wire service will take a large percentage of the order to profit for themselves, some even up to 50 percent. This leaves florists with a hard time making any money. There are also third parties, known as order gatherers, that have set up websites to look like flower shops but are not. Order gatherers set up gateway pages and use Google keywords to make them appear to be local. Order gatherers also take a large chunk of the profits again leaving florist at a loss.
It is impossible for these middle men to provide the same type of value and service that a local florist can provide, which is why at FSN we always send orders directly to real local florists without taking a percentage of the total. Only at a local florist can you trust that your money is going directly towards a high-quality arrangement. Here is a short list of the important qualities that you can only find in a local florist.
-Customized designs
-Personal attention and connection
-On-time delivery
– Years of experience
-High-quality arrangements
-Exceptional customer service from start to finish
Spread the word
Many people are unaware of these wire services and order gatherers that are hurting the floral industry. Take a stand with us and encourage your family and friends to always buy from a trusted local florist.
At Flower Shop Network we are a community committed to supporting local florists. We connect customers to florists in our network directly and NEVER take a percentage of the order. We also ensure that each florist in our network is a true, local business.
Don't let order gatherers and wire services take chunks of your money.
Support local florists. Spread the word.