Ask the Expert: Lucky bamboo leaves turning yellow
Hi,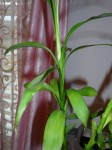 I've had my bamboo for four years and it was doing great. I suddenly noticed a lot of yellowing on the leaves on one of them. The 2nd stalk has some yellow dots on the leaves. The 3rd one is doing fine. It is starting to spread rapidly. I have 3 stalks. The roots of all 3 are entangled. I have always had them in a glass container with water. I have never used a fertilizer and they were fine without it and were extremely healthy. I always use purified drinking water. I change the water every two weeks, clean the stalk and roots by just running water on them. Please help..I need to save them.  Aparna
Plant Expert Reply:
Since you haven't fertilized the plant or I assume changed the location of the lucky bamboo, the top two reasons for yellowing have been eliminated — too much fertilize and too much light.
Now we have to check for attackers. The pale yellowing could be a sign of a spider mite infestation. Spider mites are very small insects that will attack the lucky bamboo. You will need a magnifying glass to see them. If your plant has spider mites, you will need to spray it with an insecticide. You local garden center nursery will be able to tell you which insecticide to use.
The spot on the leaf could be a fungus or a bacterial problem. You will first need to determine which it is. If you send me an up close picture of the spot I should be able to determine what it is and then your local garden center will be able to determine which fungicide you need.