Who doesn't love getting flowers? Sending them is just as fun — plus there are so many great excuses to send flowers this March, let's take a look…
St. Patrick's Day Flowers
Flowers for St. Patrick's Day? Well why not? An all-green bouquet is so beautiful and unique, anyone would love and appreciate receiving it. Maybe someone you know needs a little luck, or maybe you want to thank them for bringing blessings into your own life. Flowers are the perfect way to send these messages.
When To Send? Today! St. Patrick's Day is Sunday, March 17th. If you send flowers now, your Lucky Charm will be able to enjoy them all week long. Then when the day comes, they can pluck one of the little green flowers to wear on the lapel and avoid the dreaded PINCH!
What To Write?
"Hope a bit o' Irish luck and a bit o' Irish cheer will snuggle down inside your heart and stay all through the year! Happy St. Patrick's Day."
"Pinch me! I can't believe I'm lucky enough to be celebrating St. Patrick's Day with you!"
View more St. Patrick's Day card messages
What To Send? Green of course! You could go with an all-green flower arrangement, or mix in some of the colors also associated with St. Patrick's Day, such as white and yellow. You might also consider a green house plant.
---
Spring Flowers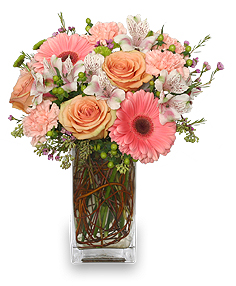 Flowers almost instantly come to mind when you think Spring. It's a great excuse to send flowers to someone for a little pick-me-up. Spring flowers make us happier and more energetic. The very first day of spring this year is March 20th.
When to Send? Anytime! Spring last all the way until June, so anytime one of your friends needs to add a little spring in their step, send spring flowers!
What To Send? You can go with so many different approaches when sending spring flowers. From all pastels, to multi-colored, to all one color — the color possibilities are endless. There are some favorite spring flowers to consider: daffodils, tulips, hyacinths, and irises are great choices. Take a look at our Spring Flower Photo Gallery to see a large choice of options.
---
National Doctor's Day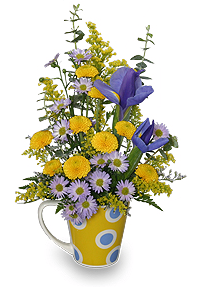 It's easy to forget to thank those who truly keep us going — our doctors. If you have a favorite doctor that needs an extra big thank you, flowers are the perfect way to show them they are appreciated. National Doctor's Day on March 30th is the day to do it.
When To Send? The official Doctor's Day falls on a Saturday. Send them at the beginning of the week so they can enjoy them in their office all week long.
What To Write?
"Every day in the life of a physician is worthy of recognition."
"With you, I know my life is in good hands. Thank You"
"I appreciate your dedication to all you do, thank you for going the extra mile."
What To Send? It is a good idea to send something compact. You don't want anything getting in the way or too distracting in a doctors office. It is also a good idea to ask your florist to use flowers safe for allergy sufferers. There are many flowers that can be substituted or altered to help minimize pollen.


---
Easter Flowers
Easter baskets are not just for kids anymore! Why not send someone you love or even order yourself an Easter basket filled with your favorite spring flowers?
When To Send? Easter is Sunday, March 31st; why not send your flowers during the early part of the week so they can be used at home as Easter decor.
What To Write?
"An Easter Wish – On this day, may you experience a sweet renewal of faith, hope, and joy."
"May the glory of our living Lord renew your hopes, your faith, your joy. Have a Blessed Easter Season"
(funny) "Happy Easter to a good egg! A little cracked, maybe, but still a good egg."
"Some Bunny Loves You."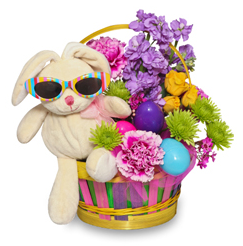 What To Send? There is a wide range of options for sending Easter flowers; what you send depends on your recipient.
To Grandma – She lives out of town, but you still want to show her your appreciation. Send something inspirational, such as a cross-shaped design or faith gift accessory.
To Friend – Send an all-white arrangement that could reflect both sides of the holiday.
For A Child – Flower baskets are a wonderful alternative to a basket full of sweets. You might also include some Easter eggs and a bunny plush.
For Your Home – You can use these flowers to inspire your faith and remind your family holiday's meaning. On the flip side, you can use your Easter flowers to match your spring decor using colorful eggs and other fun accessories.
For A Passed Relative – Have an Easter grave blanket, urn arrangement or standing spray made to honor a loved one.
See more inspiration in our Easter Flower Gallery
---
Women's History Month
The month of March is Women's History Month. Send flowers to a deserving woman who makes your life run a little smoother. We all know someone who goes above and beyond for others and expects nothing in return. This is your excuse to send a little appreciation their way.
When To Send? All month long! (Or even after that, just because.)
What To Send? Unless this is also a romantic gesture, don't choose red roses. Pink, yellow, white coral — all are good rose colors and would be appropriate. Pinks is always a good color for women, but any flower arrangement will do; try to match their personality.
As you can see, there are so many great excuses for sending flowers in March! Now you have a plan for each and every one!