You can never go wrong sending flowers to someone on their birthday. Gazing at beautiful flowers will create birthday memories to hold close to heart, especially if your recipient works at a desk job. There's nothing better than having your beautiful birthday gift greet you with it's vibrant colors every morning when you walk into your office. It's like celebrating a birthday week instead of just a birthday!
For a March birthday, spring flowers are especially sweet. Not only will your friend be surrounded by blooming buds outside, but they can also enjoy the coming of spring inside. Office flowers are an instant mood changer, and spring flowers never fail to do the trick!
So how do you send flowers for a March birthday?

The official birthday flower for March is the daffodil. This is the best choice for this month, daffodils are a favorite spring! Not only can you send a beautiful daffodil arrangement, you can send potted daffodil for an even longer experience. Below are examples of daffodil flower arrangements you can send from your local florist.
(Simply click an arrangement above and add a sending zip code. Flower Shop Network will connect you to a real local florist to send the order. It's that simple!)
If daffodils aren't your style, choose flowers in March's birthstone color — aquamarine. Flowers in these color schemes include: agapanthus, hyacinth, larkspur, statice, hydrangea, and many more.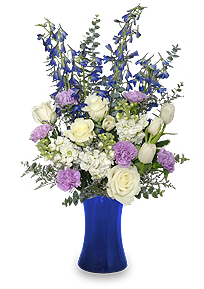 There are also specific colors depending on the birthday week your friend was born.
March 1st – March 10th – Aqua
March 11th – March 20th – Lime
March 21th – March 31th – Purple
You can use any one of these, together with aquamarine, to create a personalized March birthday flower arrangement that is sure to please any March baby.
Another great choice for March is our FSN favorite flower for March, the Hyacinth. It's fragrant blooms will remind your birthday friend they are loved. Don't forget a great birthday card message!
Related Articles:
Need A Cool Birthday Gift This March?
A Taste of Love, A Piece of Pisces
FSN's Favorite Flower Arrangement For March
This post is brought to you by local Buffalo NY florists.
Not in New York? No worries, use FlowerShopNetwork.com to find your real local florist!