Easter will be here March 31st! 
Celebrating Easter With Flowers



The Easter Lily: For many, the white Easter Lily represents the spiritual side of the holiday and symbolizes purity, virtue, innocence, hope and life. You will find white lilies gracing pulpits, churches, and other places of worship. (Learn more history and fun facts about lilies here.)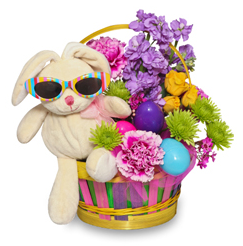 Kids Easter Baskets: Easter is one of the most fun holidays for kids: the egg dying, egg hunting, Easter Bunny, and all that candy. This year, why not fill it with other Easter and springtime favorites, such as flowers! Flowers teach kids about spring and the changing seasons, as well as the different types of flowers and how to take delicate care of them. Include little plastic eggs filled with candy, bunny stuffed animals and other fun treats. (Click for more Easter ideas for kids)
Easter Baskets: Who says Easter baskets have to be for kids? Why not send a colorful basket of flowers to your favorite distant relatives, or send one to yourself? A lovely basket full of beautiful flowers not only enhances home decor, but also puts you in a springtime mood. (Read more about how baskets make all the difference.)
Don't forget your Easter card message when sending flowers as gifts!
---
The Colors of Spring

Spring is just around the corner and I don't know about you, but I can't wait! Nothing is better than warm weather and being outdoors!
If you want to get a jump start on spring, order a big bouquet of spring blooms — either for yourself, or as a gift!
In this article, you will find flower arrangement examples in all the favorite colors of spring, including color information, best flower choices and even the color compliments. So check it out!
Continue to see the Colors of Spring in Flowers…



---
Facebook Friday: February Favorites



We recently started a Friday recap of all the wonderful posts and pictures from active florists on our Facebook Page. It's been so much fun seeing all the completely different designs every day. We hope you enjoy these favorites and continue through to see more from each Friday this month:
| | | |
| --- | --- | --- |
| Botanical Designs, Baytown TX | Paisley Floral Design Studio, Manchester NH | West End Florist, Rome GA |
| Blossoms Flower & Gift Shop, Hinton AB, CA | Apple Blossoms Floral Design, Tampa FL | Crossroads Florist, Mahwah NJ |
See all Facebook Recap pictures in these posts:
Send Yellow Roses To Your BFF
Did you know yellow roses mean friendship? What better way to say "Congratulations," "Thinking of you," or "Feel better soon," than by sending yellow roses to a friend?
Yellow is the color of summer, sunshine, and lemonade. It is a cheery color and has the power to lift us up on dreary days. Surprise your Best Friend Forever (BFF) today by sending a bouquet of yellow roses. It could be that they need a pick me up, or maybe just because they're your friend, either way it's a surprise sure to knock their socks off.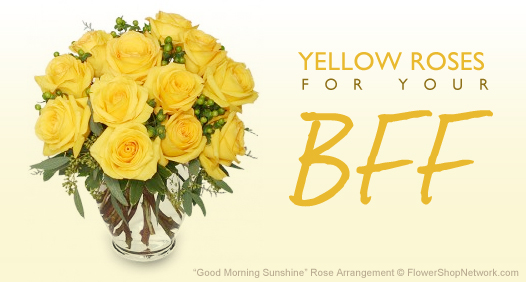 ---
FLOWER CARE TIP
If your
flowers came in a basket or other container with foam
, add fresh water every day.
More Flower Care Tips
WE'RE SOCIAL!








Love flowers? Follow us on the above Social Networks! We are always sharing the latest articles from our Bloomin' Blog, as well as the most fascinating news on the net!
You Might Also Like



March 30th Is National Doctor Day
Doctors are one of the professions where every day truly makes a difference. Flowers are the perfect way to say what words cannot. Show your favorite doctor how much you care by sending flowers.
Frequently Asked Prom Corsage Questions — ANSWERED!
Got prom questions? We've got answers! And if you don't see your question answered, please ask in the comment section and we will answer it!
Prom Time! What Is Your Prom Style?
It's almost time for PROM again! Time to find flashy dresses, sparkly jewelry, the perfect shoes and, of course, the right corsages to bring it all together! Let's take a look at some of this year's trendiest styles.
Prom Inspiration: Fun & Funky Style
We had the wonderful opportunity to meet up with a group of teens right before prom and snap some photos. So enjoy all the craziness and color of prom 2012!
Need more inspiration? Check out our sister site, Wedding & Party Network's weekly blog — Inspirational Fridays!
Help make Flower Shop Network's monthly newsletter even better! Got questions? Have an idea for a story? With your help, we can make the FSN newsletter just what you want and need. You can drop us a note in the comment section on the blog or email us at social@flowershopnetwork.com. We can't wait to hear from you!