March: Catch Spring Fever!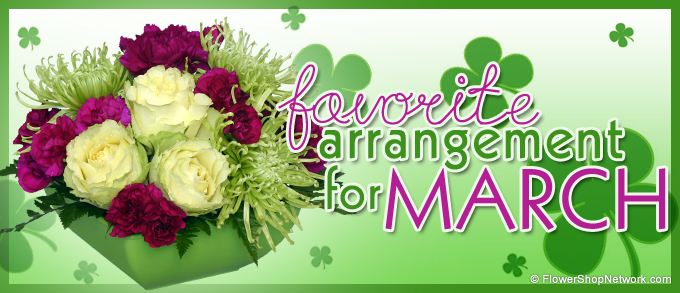 Favorite Flower Arrangement For March
March already? Wow! We are excited to bring you this month's favorite flower arrangement: Lime Green Touch of Class. It may be a mouthful, but this little arrangement goes a long way! It's roses and deep magenta carnations are romantic enough to send to your sweetie just because, yet playful enough to send to a BFF (best friend forever) to say "thanks!"
Other ideas for sending flowers in March:
Send lucky flowers for St. Patrick's Day! (March 17th)
Send for a March birthday
Send to congratulate
Send to say "I miss you," (Grandma/Aunts/Old Friends)
Say "Thanks" with flowers
Say "Job Well Done!"
Whatever your reasons to send flowers this March, always always always use a real local florist!
---
The Colors of Spring
Spring is just around the corner and I don't know about you, but we can't wait! Nothing is better than warm weather and being outdoors! If you want to get a jump start on spring, order a big bouquet of spring blooms — either for yourself, or as a gift! Here are some great spring flower inspirations based on color to get you started:
---
Prom Time! What is your Prom Corsage Style??

It's almost time for PROM again! Time to find flashy dresses, sparkly jewelry, the perfect shoes and, of course, the right corsages to bring it all together! Let's take a look at some of this year's trendiest styles.
Fun & Playful – For you, prom is about happiness, hilarity and hoopla.
Color Focused – Make a statement with your colors!
Stay Classy – Classic elegance never goes out of style.
Wild Child – Like your prom look with an edge.
Flower Power –  Flowers alone are enough to make your statement.
Trendy Tropics – You like your style with a hint of sizzle.
Over-The-Top Style – You're not afraid to think outside the box for inspiration.
Can you guess what style is yours? Continue reading this post for more advice, suggestions, and photos for each style mentioned above!
What is your Prom Corsage Style?

---

The Lavish Lily

It's easy to see why the lily is a popular favorite during spring, considering it's used as a symbol of Easter. But how much do you really know about the lily? Do you know about the many different kinds of lilies? Did you know they are used for culinary purposes in much of the world? Did you know the name Lily probably came from an extinct language? Learn more interesting facts and trivia about the lily in this post!
Read more about The Lavish Lily

---
How Local Florists Made Valentines Day A Great Success!
Valentines Day is truly one of the biggest holidays of the year for florists, and this year's has come and gone with great success. We are so proud to see more people turning to their real local florist when they need flowers, and even more proud of how well these florists were able to take care of their customers with good service and quality products.
On the day after Valentines Day, we asked florists to share their favorite memories of the holiday and were answered with overwhelming response. As you are reading these, consider how much these florists care for each and every customer.
"Our story is a post-Valentine one. We took all of the extra wrapped roses and bouquets we had made up and went to 3 retirement homes today and gave the flowers away. It was a sweet way to end the holiday and to share the love with many people who don't receive flowers that often." –Allan's Flowers & Prescott Valley Florist, Prescott, AZ
---
Need A March Birthday Gift? Look No Further…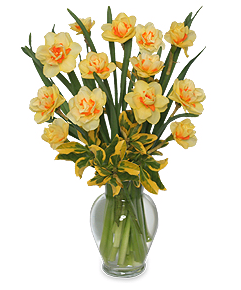 You can never go wrong sending flowers to someone on their birthday. Gazing at beautiful flowers will create birthday memories to hold close to heart, especially if your recipient works at a desk job. There's nothing better than having your beautiful birthday gift greet you with it's vibrant colors every morning when you walk into your office. It's like celebrating a birthday week instead of just a birthday!
For a March birthday, spring flowers are especially sweet. Not only will your friend be surrounded by blooming buds outside, but they can also enjoy the coming of spring inside. Office flowers are an instant mood changer, and spring flowers never fail to do the trick
So how do you send flowers for a March birthday?

The official birthday flower for March is the daffodil. This is the best choice for this month, daffodils are a favorite spring!
Continue reading for more March Birthday Ideas
---
FLOWER CARE TIP
If your
flowers came in a basket or other container with foam
, add fresh water every day.
More Flower Care Tips
WE'RE SOCIAL!








Love flowers? Follow us on the above Social Networks! We are always sharing the latest articles from our Bloomin' Blog, as well as the most fascinating news on the net!
You Might Also Like



Complete Guide To Facebook Timeline For Businesses
Well, Facebook finally released the new Timeline as an option for Pages. Currently it is just a option, but according to Facebook, everyone's business pages will convert to the Timeline format on March 30th. I know when Facebook usually makes these types of changes everyone goes a little nuts, but I'm going to show you why Timeline is going to make Facebook an even greater promotional tool than ever before.
Delivering Good Cheer Isn't Just For The Stork
A new baby and the celebration of birth is always a delightful occasion. Friends and family come from all over just to pinch those new little cheeks. If you're going to meet and greet a new little life, don't show up empty handed — bring flowers! Flowers have been used in celebrations for centuries and are a great representation of growing life.
Blog Announcement: New Features
First of all, the blog is a massive collection of articles all about flowers, taking care of flowers, ideas for florists, local florist spotlights and so much more. Because of it's size, it's become very hard to navigate around to your favorite subjects. Well, we've added a few things to make it even easier to find what you're looking for.
Make A Friend: Get A House Plant
Everyone could use a new friend in their lives. It's not always easy to meet new people, and pets are a big commitment, that's where house plants come in! These green plants do so much for us: boost energy levels, fresh air and caring for them makes us feel so good. Maybe you know someone who lives alone, with assisted living or a hospice? A house plant will make an excellent friend for them to love and take care of.
Help make Flower Shop Network's monthly newsletter even better! Got questions? Have an idea for a story? With your help, we can make the FSN newsletter just what you want and need. You can drop us a note in the comment section on the blog or email us at social@flowershopnetwork.com. We can't wait to hear from you!