One of the biggest excuses I hear from guys about why they don't send their wife or girlfriend flowers more often is, "I just don't know what she likes…" Sorry guys, this is a pretty lame excuse!
Here is the solution: Match the flowers to her purse!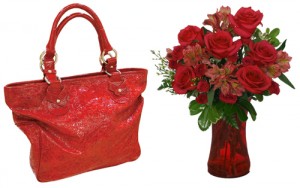 If she has a purple purse, it's obvious she likes the color purple. Red? Send her red roses! Hot pink? Pink Gerber daisies are your answer! It's that easy!
If her purse is a little more wild, like leopard print, that will be a fun challenge for the florist! I bet your local florist has leopard ribbon to use and a great selection of fall flowers would go perfect with those earthy tones!
An even better idea is to email a photo of the purse to your florist. And guys, don't make it harder than it sounds, with all the new-fangled, high-tech phones out there now, you can snap a quick pic and email it to your florist in no time!
This is a great way to be romantic and pick out something special JUST FOR HER!
There is a lot you can learn about a woman based on the style of purse she has — whether she likes more of a contemporary or vintage style. Maybe its a designer purse? She'd probably like a floral design with a little more high-fashion. Your florist may know absolutely nothing about purses, but they do know a LOT about style. They will at least be able to read your wife's style and favorite colors. Give it a try by sending flowers today!
Florists: If you get a guy who gives the "I just don't know what she likes…" excuse, try recommending this idea!
This post is brought to you by local Grand Rapids MI florists.
Not in Grand Rapids? No worries, Flower Shop Network makes it easy to find a real local florist near you!