Our good friends over at the Memphis Botanic Garden in Memphis TN are having a big, holiday shindig just for kids through the month of December! (They are always helping us with our toughest Ask The Expert questions, and deserve a little recognition for this fun and festive kids event!) In the children's garden, AKA My Big Back Yard, you will find a whole world of winter games, crafts and discoveries just for kids! When you first enter you will be hardily greeted with falling snow and continue walking through a dazzling display of lights. Children will learn an assortment of traditional winter games and crafts, like bean bag toss and making finger puppets. Kids will also be able to learn about and discover different wintertime plants in the garden — including a raised vegetable bed growing winter veggies, like carrots.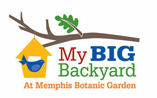 The fun doesn't end there! There is a fire pit for roasting yummy marshmallows into smores. The giant Light Bright is sure to be the kids favorite. (You remember Light Bright… from the 90's. The little, colored pegs that go into the black paper with a bright light behind it… ya that's the Light Bright!) The folks at the Memphis Botanic Garden have created an enormous version of this for the kids — the pegs are even made out of water bottles! Another kid's favorite is the Snowbox. A winter take on the sandbox, kids will be able prance and play in the soft, snowy hills.
"Our focus is on getting kids connected back with nature," says Jana Gilbertson, "It's a good way to get them outside, even in the winter and learn what it's like to run around and play. […] We like to teach them how to get outside and play again."
If you live in or around Memphis TN, be sure to swing by the Memphis Botanic Garden and check out all of their winter events!
The dates for Snowy Night events are: December 3-4, 10-11, 17-23, 26-28 from 5:00-7:30 p.m. For more information, check out their website: Memphis Botanic Garden
This post is brought to you by local florists in Memphis TN.
Not in Memphis? No worries, use Flower Shop Network's handy directory to find REAL local florists near you!