In honor of Cinco de Mayo, FSN is taking a look at Mexico's deep love of flowers. From the earliest cultures, to the latest generations, Mexico has always had a close relationship with their natural surroundings.
Starting centuries ago with the Aztecs, who elevated the importance of flowers through religious ceremonies and royal privileges.
There were certain trees (particularly one native, very fragrant magnolia) reserved only for royalty.
Important peoples had plant/flower titles such as "Noble Lord Flower"
They even had gods who loved flowers, Xochipilli was the god of art, games, beauty and flowers.
They named many of the Days, Months and Years after flowers on the Aztec Calendar.
Over 3000 medicinal plants used by the Aztecs are still used today.
The Aztecs also enjoyed personal flower gardens complete with pools, terraces and fountains. However, the Aztec chinampas was where their true gardening talent shined through. Chinampas were their extremely fertile, floating gardens.
The Aztecs would fence off a small section in a shallow lake bed, then fill it with layers of mud and compost until it was above the water. They would plant willow trees along the edges and corners of the sections to keep it from eroding.
Today, some 3000 years later, farmers at Xochimilco or 'The Place of Flowers' are still farming using ancient methods.
Even the more modern Mexican traditions rely heavily on flowers. The marigold is used in Dia de los Muertos, or Day of the Dead celebrations. The marigold is considered the "flower of the dead," and their scent is believed to "attract the souls and draw them back." For some, this can seem a little strange, but this tradition is all about remembering those who have passed and enjoying your life among the living.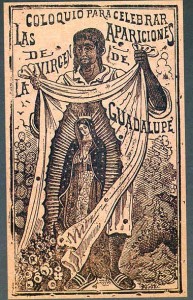 Mexico's religious ties to flowers continues with the first appearence of Saint Mary of Guadalupe. According to the tradition, Juan Diego saw a vision of a young girl surrounded with light. She told him to build a church in her honor. When Juan told the Spanish Bishop of his claim, he ordered Juan to return and ask the lady for proof. The lady asked Juan to pick roses at the top of a local hill. The problem with this was it was winter, but he did as he was told.
When he got to the hilltop, he found Castilian roses — the most beautiful roses he had ever seen — which were from Bishop's native home, but not indigenous to his area. The Virgin arranged the roses in his cloak herself and sent Juan back to the bishop. When Juan Diego presented the flowers to the bishop, the image of the Virgin of Guadalupe miraculously appeared on Diego's cloak.
Today, approximately 87% of residents identified themselves as at least nominally Roman Catholic — a direct result of a miracle that began with flowers!
Flowers are also a key element in traditional Mexican style! Most South and Central American
cultures are known for their vibrant use of color. Where do you think dye that bright comes from? Flowers.
Flowers were used in wedding ceremonies, embroidered on clothing, boots and hats, used as decorations, used to scent houses. They used beans, corn, and other colorful seeds to create intricate mosaics that rival that of the Romans. Almost all traditional Mexican folk art uses flowers and plant material in some way.
So, from it's earliest heritage, Mexico has long been in love with flowers. This Cinco de Mayo, incorporate brightly colored flowers into your decor!
Here is a list of favorite Mexican Flowers:
Fuchsia
Dahlia
Cosmos
Mexican Tiger Lily
Poinsetta
Zinia
Marigold
Suggested Article: Mixing Fruits & Veggies With Floral Arrangements