For everyone who missed the Maine Florists Association Annual Convention, I have it on good authority that it was an amazing event and a great time was had by all! Our own Jamie Jamison Adams attended and was fortunate enough to have been invited to give a fun and informative presentation to the florists assembled. She then stepped down from the podium and joined in the festivities, and what festivities there were! From floral design contests to the Twisted Yankee Swap, there was never a dull moment. But I won't hold you up any longer with my chatter, on to the photos!
A look at the FSN booth! I have nothing but respect for the men and women who set these up. They always do such an amazing job!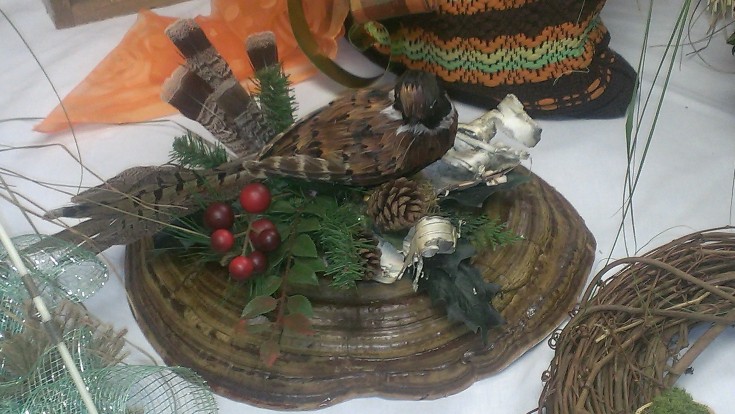 An absolutely stunning arrangement illustrating the coming of fall! The designer Amy Murphy of Cook Florist in Presque Isle, ME combined her two passions, hunting and floral design, and used the feathers from pheasants she'd shot herself as accent pieces. Beautiful! There's something to be said for finding creative ways to use pieces that might otherwise go to waste.
Another beautiful arrangement! Jamie walked into her room and found this exquisite arrangement waiting to greet her. What a wonderful way to say "Hello!" Special thanks to Janet Johnson, mmfd, of Maine Street Florist & Gifts in Buxton, ME for her tremendous work.
A wonderful arrangement designed by Mark Pellon of Chapel Hill Floral in Bangor, ME. His use of the ghosts in this design is an excellent way to show movement in a still piece. Very well done!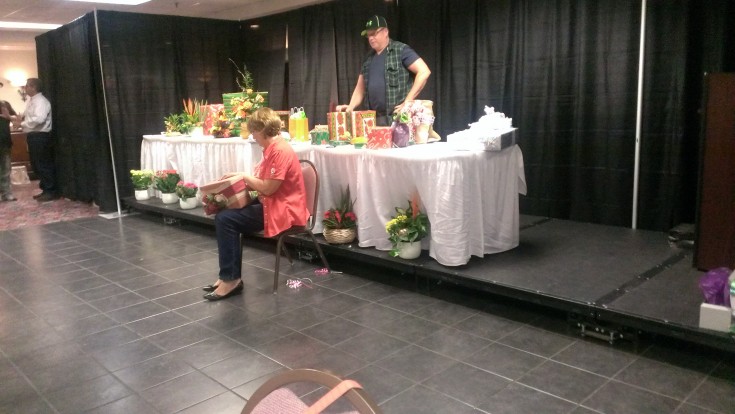 Uh oh, folks. It's Twisted Yankee Swap time! For those who aren't clear, this event is also referred to as Dirty Santa in other parts of the country. In essence, everyone chooses a number. The number's then go into a box. When your number is called, you choose a gift. If you like it, you keep it. If you don't, you can swap it out with anyone who's name was already called. Of course, anyone coming after you then has the opportunity to take it for themselves as well. Ayup, lots of fun at parties!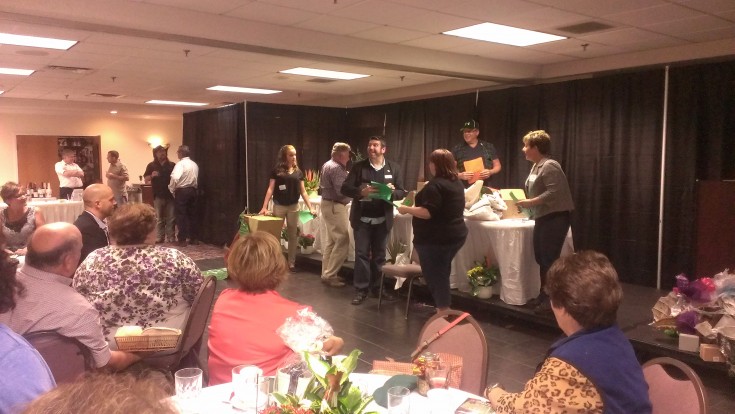 The dispensing of gifts continues. Some of these ladies look like they're about to tackle poor Mark Pellon. Drop the box, Mark! Walk away!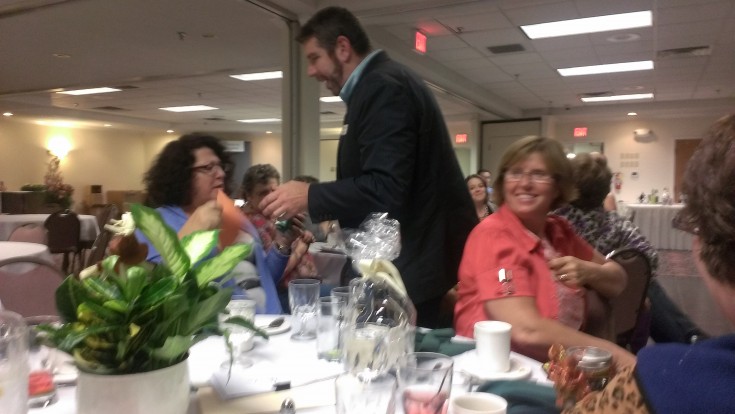 Mark, no! That's the opposite of walking away. Jenny does not want to give up her gift. She looks displeased. I do not see this ending well …
Well, all the gifts have been handed out, and it appears that Mark is still with us. I guess he and Jenny worked things out satisfactorily. Hold on a sec, where is Jenny? (gasp)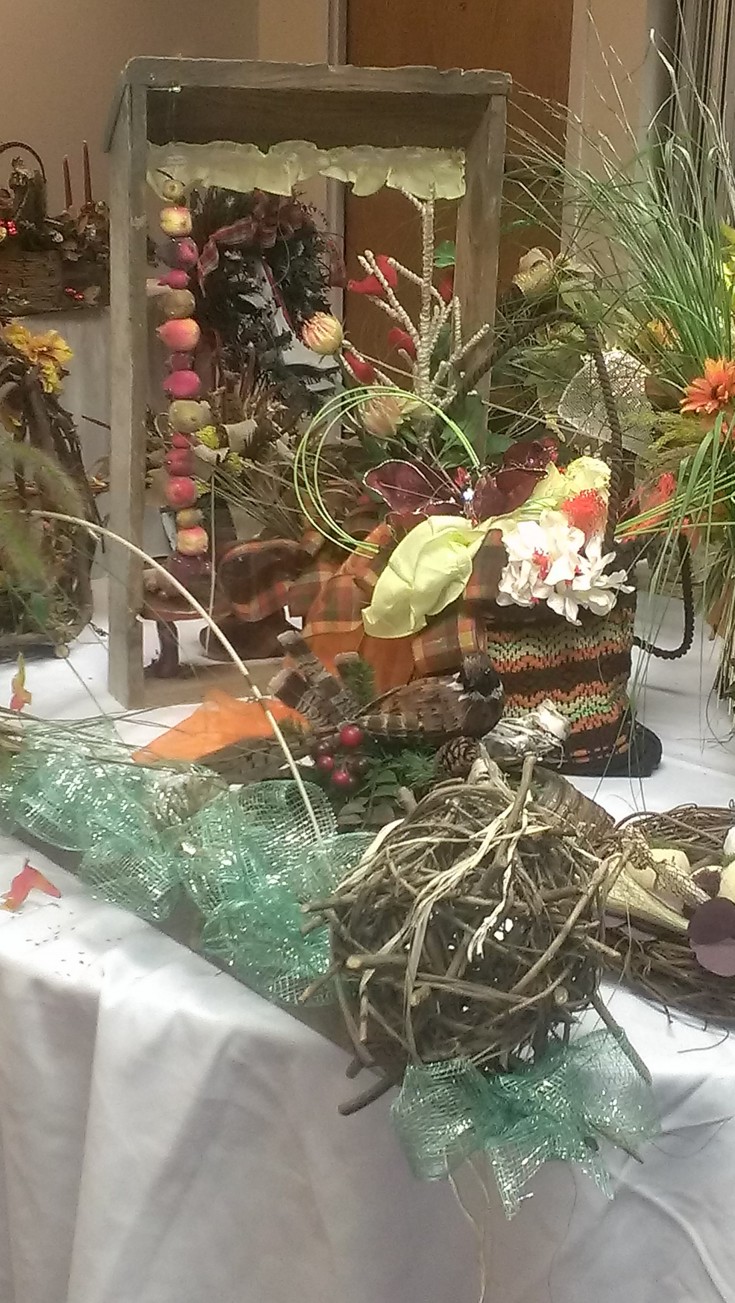 Amy Murphy's design is in the foreground, but just behind the pheasant you can see two gorgeous pieces put together by Lisa LaGrange from JellisonTrading in Augusta, ME. She is a proponent of repurposing old or worn out household items into her designs. In the two we can see here, she repurposed an old purse to hold the arrangement, and the frame behind it is decorated with the fringe of an old apron. They look beautiful, AND they help the environment! Awesome!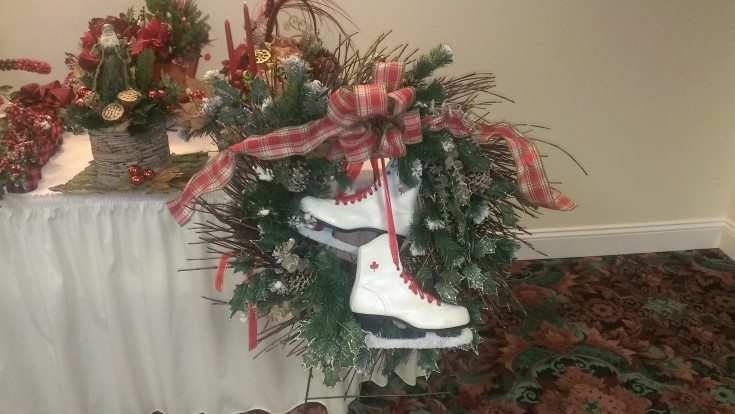 Another impressive piece, this one by Kim Bridgham from Creative Blooms in Lincoln, ME. Kim gets that excellent ice crust on the skates by using Kosher salt to emulate the ice. How impressive is that!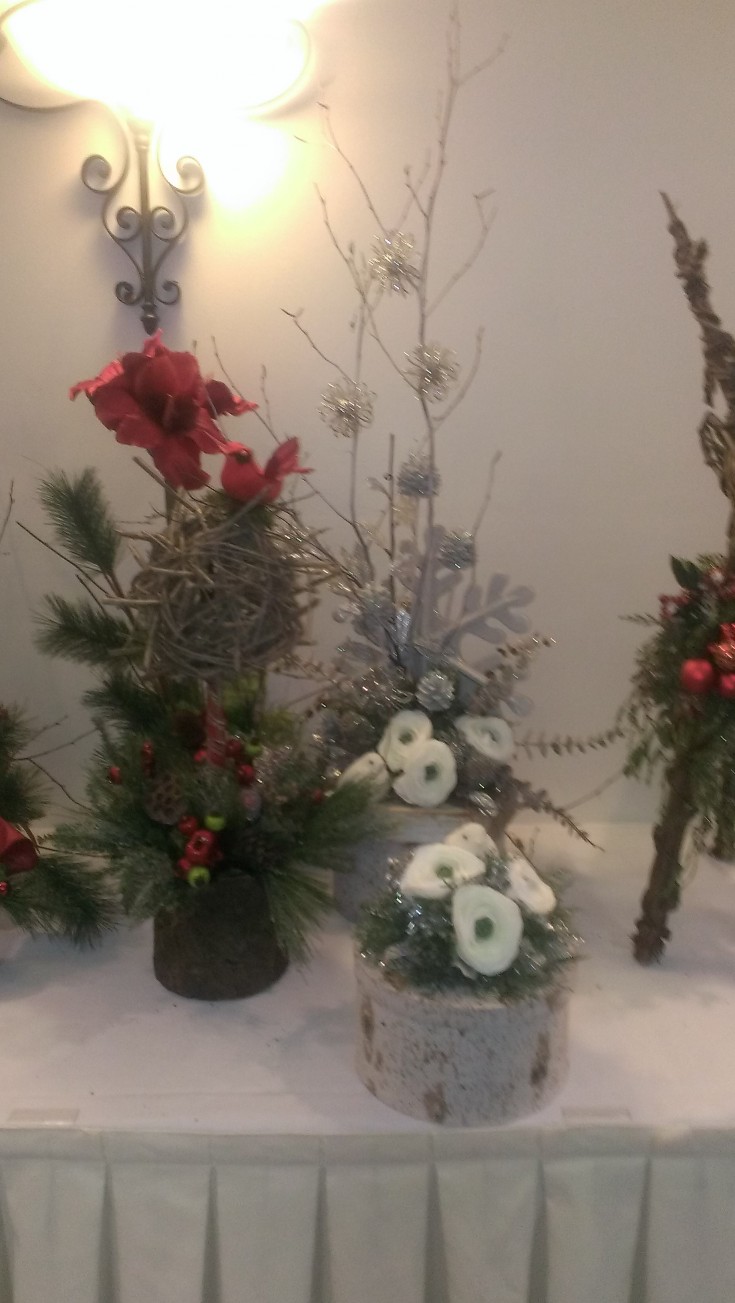 This arrangement was designed by Ned Alley from Sprague's in Bangor, ME and once again illustrates an exciting idea! Ned built his arrangement on boxes with removable lids so that the piece is not only a decoration but a keepsake. Excellent idea Ned!
As you can see, the Maine Florists Association Convention was lots of fun and attended by many talented designers and florists. Jamie commented that this group of florists was so enjoyable to be around because they freely shared their ideas, their innovations and their friendship with one another. The florists in Maine are as interested in helping their fellow florists be successful as they are their own businesses. It's that kind of community that ensures the future of local florists. That kind of teamwork and fellowship that guarantees the floral industry will thrive.
Thank you, Maine, for being a good example for the rest of us!