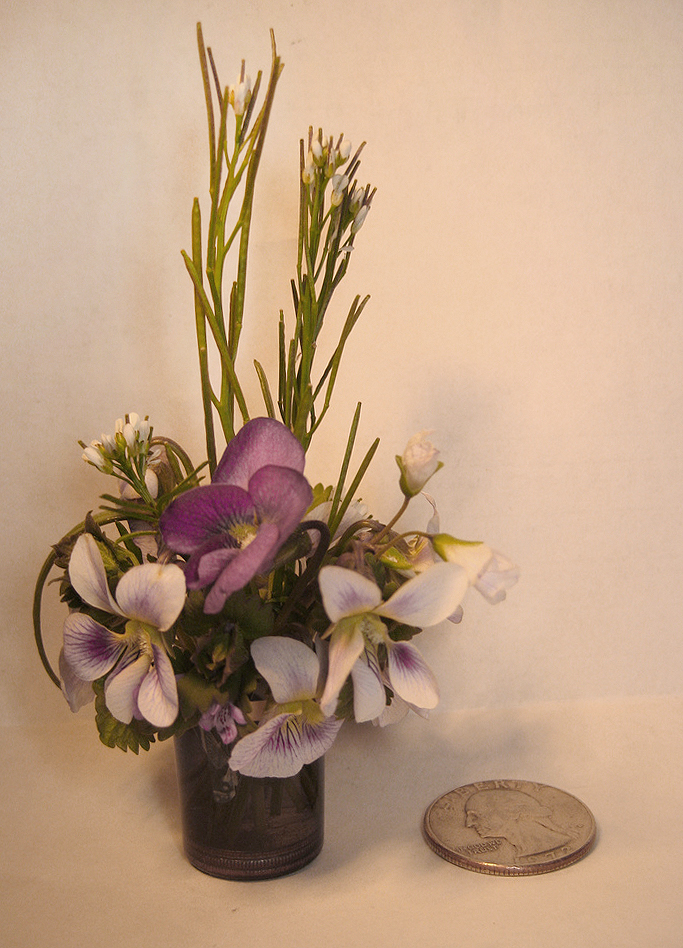 Some of the first flowers of spring come from tiny grasses. As I walk my dog every day, I always notice new types of grass flowers that only get the chance to bloom between mowings. The tiny, yet beautiful flowers foreshadow all the colorful blooms of spring. As florists, it's easy to overlook these little gems. They simply cannot be used in floral design… or can they? Above is my attempt at trying!
For the miniature flower arrangement above,  I used violets, Johnny jump-ups (as we call them in the South), Pepper weed (as my grandmother called them), and Popcorn weed (What I call it because the seeds pop out when you touch it). For the vase, I used the lid to a spray bottle, I think it was a spray hair conditioner bottle. To control the flower placement, I actually cut a piece of tape into strips and made a grid across the open top of the 'vase'. I put a few dimes into the vase to keep it weighted. From the quarter next to it, it was only about 2 inches tall.
What could you do with a tiny flower arrangement like this? I have no idea! It is so small, it's hard to notice as decoration. However, I sat it on my vanity near a tiny mirror so that I could enjoy it as I was getting ready in the mornings. I can't help but love anything miniature, and this was just impossible not to attempt!
I'm sure our florists would have lots of ideas of how to use such a tiny floral design. Maybe they will take the challenge and try to make their own mini arrangement? *wink wink, nudge nudge* If so, I'll add the pictures to this post!