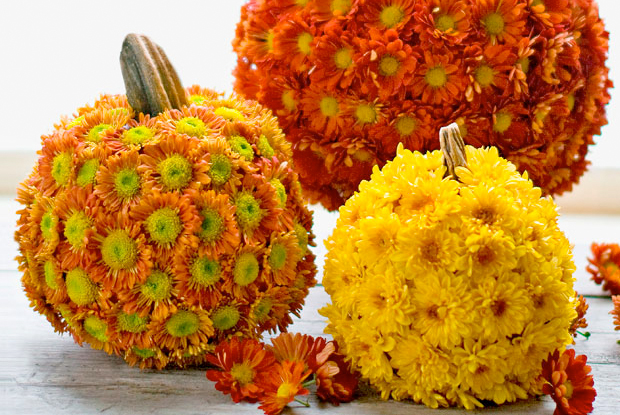 During Halloween, jack-o-lanterns are on doorsteps everywhere! While pumpkins are typically used for Halloween, they are also great for fall and Thanksgiving decor! (Just without the faces.)
We spotted this adorable pumpkin decor idea and had to share: Mumkins! You know we love it because it mixes chrysanthemums with this iconic Halloween/Fall/Thanksgiving symbol.
Creating a mumkin is easy!
Step 1: Use an awl or ice pick to poke holes, approximately 1/2″ apart, around the entire pumpkin.
Step 2: Cut blooms with 2″ to 3″ stems off the plants. Strip leaves from the stems. (Larger pumpkins will need around 120 blooms to completely cover them; smaller pumpkins need about 100 blooms.)
Step 3: Stick blooms in the holes. The moisture from the pumpkin flesh will keep your "mumkin" looking good for 3 to 4 days.
Create mumkins out of several sized pumpkins for great table decor.
Another great way to use fall mums is by placing them inside your pumpkin, whole. Similar to our Halloween mum house plant above.
Step 1: Cut the top out of a pumpkin large enough to contain your plant's soil and roots.
Step 2: Clean out the pumpkin so the mum has plenty of room.
Step 3: Carve a jack-o-lantern for Halloween decor, or leave it natural for fall and Thanksgiving. You could even paint or stencil it for the season.
Step 4: Either plant the mum inside the pumpkin (you will have re-plant later as the pumpkin decays) or place the mum, container and all, into the pumpkin.
No matter how you use your mumkin pumpkin this year, you can find great-looking mums at your local flower shop! Your florist may have even MORE ideas for fall decorating with mums and pumpkins.
Fantastic idea from Lowes.com