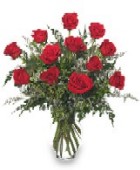 Memories from the Flowers in My Mind
A perfectly arranged vase of red roses greeted me as I opened the hotel room door. With my heart pounding, I walked across the room to read the enclosure card. "Do you miss me yet?" read the card. Tears ran down my face as a wave of excitement rushed through my body.
Those gorgeous flowers have long gone; but even after fifteen years, the breathtaking memory has not diminished one bit. Every time I see a red rose, it reminds me of those beautiful flowers and the sweet card message.
Flowers have a way of creating strong and lasting memories. Flowers may fade; but the memories and the emotions felt never will. I remember the first flower I ever received; it was Valentine's Day (ninth grade). Several girls, in my class, had received beautiful flower arrangements from their boyfriends. Although happy for them, I was a little sad. Since I had no boyfriend, this Valentines Day would be like all the others – flowerless. Suddenly an office aid walked into my classroom with another flower arrangement – a single yellow carnation in a green vase. When the teacher handed the flower to me, a rush of warmth shot to my head and a grin as wide as the Mississippi appeared on my face. Nervously, I read the enclosure card; it was signed "Secret Admirer". Several years later, two of my closest male friends confessed that they sent the flowers. Why? Because, I was always happy when someone received flowers and deserved some of my own. Yellow carnations still trigger a wide grin and a flash back to that exciting day even twenty-eight years later.
Flowers and memories go hand in hand celebrating the good times, bad times and so-so times in our life. Flowers can make a difficult day better, acknowledge our efforts or celebrate a milestone. Large quantities of white flowers remind me of the beautiful casket spray at the funeral of a classmate's sister. I see her golden blond hair and her contagious smile in every flower. I will always remember the comfort those flowers gave her family, her friends and me. Her beauty and energetic personality are forever linked to the purity and splendor of white flowers. I am drawn back to that day; not to mourn the loss of an unfulfilled life, but to celebrate the wonderful life she had for eighteen years.

Some of the sweetest memories I have, of my husband, involve flowers, beginning with the hotel roses. My husband has a sixth sense of somehow knowing when I need a little pick me up. I am plagued with anxiety any time my husband has to leave town worried that I won't be able to run our family business the way he does. Then one time, harried by the day's activities, I swung the door open to find a stunning vase arrangement with Stargazer Lilies on my kitchen counter. The card read, "I never worry when I'm gone because I know you'll take care of every thing." Now anytime I feel stressed or under appreciated, I remember those flowers and my anxiety fades away.
Flowers express a deep heartfelt emotion that can't be vocalized. Working in my sister-in-laws' florist shop and our garden center, I've seen this phenomenon many times. Like the time an older gentleman asked, "Where is your most beautiful flower arrangement". As I pulled a gorgeous mixed flower arrangement from the cooler, I ask, "What's the occasion". The gentleman gruffly replied "My wife's anniversary and on the card write – These can't compare". Basically that was the extent of our conversation. He may have been a man of few words, yet very expressive. I'm sure those flowers reminded his wife that she is and will always be beautiful to him. Flowers help us articulate messages we can't express. A little boy dumped the entire contents of his piggy bank on our counter. Pointing to a potted geranium he asked,"Is this enough money for that flower?" Because he and his new puppy hurt her favorite one, he explained, his mother desperately needed it. I guarantee the frustration the mother previously felt melted away when she saw the flower. That little boy is now a grown man, but I am sure his mother sees her little boy in every geranium. Those memories will live with them forever and the love expressed never forgotten.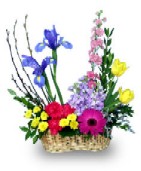 There is a saying by Oscar Lavant: "Happiness isn't something you experience; it's something you remember." Memories are what define our lives. They are what get us through the hard and trying times. They are what propel us to experience new things. Memories make us who we are and who we become. Flowers help us rejoice, celebrate, ponder and relax with every event in life. If I had to add something to Mr. Lavant's quote it would be this: flowers help you experience and remember happiness at the same time.
The essence of life depends on memories; our memories and the memories we create for others. Flowers celebrate the essence of life creating strong and lasting memories. Let flowers speak for you, creating memories that last a lifetime. Florists can help us articulate our thoughts and emotions into powerful expressions. So contact your local florist and discuss the ways you can create memories today that will last forever.
Have a flower memory you'd like to share? Place your flower memories on the Bloomin' Blog.
Contributor: Jamie Jamison Adams