It's that time of year again. This time, you planned ahead and did everything right: the house is decorated with twinkling lights, the tree is strung with every imaginable ornament and the kitchen is full of candies and baked goods. Even the weather has cooperated, and a light layer of snow covers the ground. Flowers sit on the table and adorn the front door, welcoming all who come near. The holidays will be perfect this year. You purchased Christmas presents in advance for all of your friends and family, and they all lie neatly wrapped beneath the tree. There's just one thing missing. It was not through lack of love, care, thought, or even preparation, but one person remains gift-less. Maybe this is your first Christmas together, and you're looking for a present that will set the precedent for years to come. Perhaps you've celebrated fifty Christmases and anniversaries together and you're searching for a Christmas gift idea that will be unique and surprising. Why not astound your loved one with your Christmas attentions by sending flowers not just once, but year-round?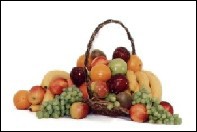 The tradition of giving gifts on December 25th hearkens back to pre-Christian days when peoples celebrated the Winter Solstice as a turn toward the longer days of spring and summer. As Christians spread their religion across the European continent, they incorporated this ancient celebration of sunlight and filled it with their own religious significance. In the Middle Ages, the Christmas celebration included twelve days of revelry, beginning with Christmas evening and continuing through Epiphany on January sixth. These days represented the purported time that passed between the birth of Christ and the coming of the Magi. Each evening was celebrated with a feast for which great halls were decorated with colorful Christmas flowers. Often, the revelers would give flowers or fruits, both expensive and hard to find in the winter months. In some areas, friends and family exchanged a gift every night. In other areas, all the gifts were saved and given on Twelfth Night, along with great celebration. Many modern societies still celebrate forms of the Twelve Days of Christmas, and even those that do not still retain vestiges of the practice.


Most Americans have returned to celebrating a single-day Christmas, but there is no reason that this must always be the case. Why not revive the extended gift-giving traditions of Christmas in your home? If you are searching for a great Christmas gift idea, consider spreading the spirit of Christmas into the rest of the year by giving your loved one floral gifts once a month for the entire year. On Christmas Eve, present a single long-stemmed rose and attach a note detailing your plan. Continue to give flowers every evening for each of the twelve nights of Christmas. For a romantic bent, give red roses and a love poem until you've amassed a bouquet of a dozen roses. There are also a wide variety of Christmas flowers and plants to choose from, like Poinsettias, Christmas Cactuses, Paperwhite Narcissi, and Norfolk Island Pines. These plants can be kept year-round and, with proper care, several will bloom again the following year. You could also "deck the halls" a bit more each night with creative Christmas wreaths, door swags, holly, or mistletoe. Whatever option you choose, fill your home with holiday flowers throughout the entire Christmas season.


Your local florist will be happy to help you provide the rest of your gift. Turn the Twelve Days of Christmas into Twelve Months! Plan fun and creative ways to surprise your special someone with flowers each month throughout the year. Feel free to incorporate other holidays into your Christmas gift: birthdays, anniversaries, Valentine's Day and other special occasions are times to give more elaborate or romantic arrangements. Make the other "ordinary" months extraordinary by sending flowers. Vary the delivery location to keep the surprise alive: send flowers home one month and to work the next. Does your wife volunteer in your child's school classroom? Send flowers to the school that will both surprise her and delight the kids. Does your husband take frequent business trips? Arrange to have a bouquet of fresh flowers delivered to his hotel room, along with a "Missing you" note. A professional florist can deliver flowers to health centers, golf clubs, beauty shops, local businesses, and restaurants – anywhere your loved one frequents. Don't be afraid to be creative!
Choose flowers, potted plants, or gift baskets that express your feelings or cater to your loved one's taste. Send flowers in vases or wrapped in brightly colored ribbon; combine them with balloons, candy, chocolates, stuffed animals or sweet notes. Have your florist include a new book by a favorite author or a recent movie or cd. Send gift baskets with a theme: a coffee mug combined with a collection of gourmet coffee or tea, stationary and pens, sports memorabilia, jewelry, or even candles and bubble bath. Make the monthly flower delivery a game by including a gift certificate to a restaurant with an invitation for a romantic meal that evening, or a clue to the location of a special hidden gift at home. Instead of fresh flowers, purchase a painting or framed picture of flowers and send virtual flowers via e-mail to announce the gift. Turn the monthly occasion into a time you both eagerly await!
For the person who has everything but who deserves even more, consider a Christmas gift idea that will extend the Twelve Days of Christmas into the next holiday season. Consult your local florist today for ideas about how to turn every month into Christmas and start planning the floral gifts that will put a smile on your loved one's face.
To discuss this newsletter or if you have flowers or Christmas ideas go to the Bloomin' Blog
Contributor: Beth Roberts