Foolproof Gift Giving Guide For 2009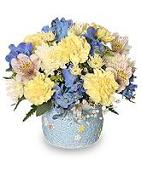 We often send flowers as gifts for holidays and birthdays. However, there are other situations that are worthy of gift giving such as anniversaries, graduations and new baby arrivals. In fact, occasions involving gift giving seems to pop up frequently in our lives. Every month there is some kind of event worthy of a gift. But with the hectic schedules most people have, finding the right gift can be stressful and time consuming. The solution to this problem is as simple as a call to your local florist. Utilizing your local flower shop when it comes time to give a special gift makes gift giving not only thoughtful and fun, but easy as well.
Keep in mind, flowers are appropriate for any occasion and can make gift giving a breeze. Flowers appeal to women and men whether young or old. Flower gifts enable you to tailor your gift to the person you are sending it to or create a gift that is easily connected to you. Making stylish flower arrangements your signature gift is effortless when you use your local florist. To give it your signature flair have the florist add a specific item or flower to every bouquet you send. By adding your personal touch, everyone will know who sent the beautiful flowers. Sending flowers with your personal style makes giving unique and memorable gifts easy. Not sure how to utilize the skill and creativity of your local florist? We can help.
Sending Flowers For Holidays
Holidays and birthdays are the most obvious occasions that people give gifts. For these joyous circumstances, cheerful, warm and heartfelt floral arrangements are in store. For holidays, selecting colors appropriate to the time of year will bring out the ambiance of the holiday atmosphere and create seasonal cheer. You can personalize these types of flower gifts by adding a special ornament or keepsake to the arrangement you send.
Flowers and Spring Holidays
Holidays such as Mothers Day, Easter and St. Patrick's Day are appropriate for spring colored flowers and bright, cheery arrangements. Votive vases filled with pastel roses or mixed spring bouquets are a springtime favorite for most gift givers this time of year. One way to personalize spring flower gifts is to include a particular flower in a spring color. For example gerbera daisies could be your signature flower and your florist can incorporate one or more in every flower arrangement you send.
Flowers and Fall Holidays
Halloween is a fun and silly holiday and Halloween gifts should be also. By incorporating plastic spiders and spider webs into a flower arrangement, your Halloween gift will be a fun and appropriate treat. With autumn in the air darker rustic tones become the seasonal colors. So mix these colors with gourds, pumpkins, autumn leaves and candles to create a Thanksgiving flower arrangement befitting the season. After all who can resist the warmth from such a lovely gift.
Flowers and Special Holidays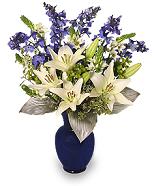 Holidays where certain colors are traditionally significant such as Christmas, Hanukkah and Kwanzaa ask for arrangements that utilize those colors. For example, at Christmas incorporate wild berries, red roses, and white daisies in a dinner table arrangement. To keep with the traditional color of Hanukkah, floral arrangements and centerpieces should be accented with blue. When sending flower arrangement for Kwanzaa include the colors black, red and green. Don't forget New Year, which can be celebrated glitter and metallic accented flower arrangements.
Birthday Flowers – Making It Personal
Tailor birthday flower arrangements to the person who will receive them. Do they have a favorite color? A favorite flower? Are they very creative? Do they like traditional flowers? Personalizing the flower arrangement based on the recipient's interests or personality will assure that the gift will be received with joy and excitement. Sending a personalized flower arrangement demonstrates how much thought and effort you have put into a once "ordinary" gift.
Flowers Impressive Gifts For Any Occasion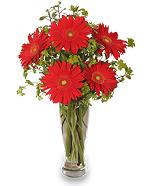 Holidays and birthdays seem to be the most common gift giving occasions throughout the year. However, there are so many other ways to give flowers as gifts. Several times during the year we all have events and occurrences where we aren't quite sure what type of gift is appropriate. With flowers as a gift you can't go wrong. Flowers and plants are always appropriate no matter what the event. Gifts can be given to say thank you, I'm sorry, congratulations, get well, and many other expressions. Flowers can also express our deepest sympathy when more than words are needed.
Finding gifts for all of these occasions throughout the year could be a challenge without the help of your local florist. The greatest challenge to a successful gift of flowers in any of these circumstances is conveying the appropriate emotion for the situation. Florists have the ability to create a flower arrangement that expresses the sender's emotion in a unique and personalized way. A gift of flowers, especially when personalized to one's particular interests can mean more than any other gift in the world.
Planning ahead and working with your local florist will help you give the perfect gift. Throughout the year there are several holidays that necessitate a gift-giving occasion. Use the following dates as a guide for gift giving:
New Years Day- January 1, 2009 — Start the New Year off right make a list of your favorite people and send them, flowers now or on a special date.
Valentines Day- February 14, 2009 — Send someone you love an arrangement of their favorite flower.
St. Patrick's Day- March 17, 2009 — Pass on the luck of the Irish by sending a green plant to your best friend.
Easter- April 12, 2009 — Celebrate the season by sending chocolate and flowers or an Easter lily to loved ones.
Earth Day- April 22, 2009 – Contribute to the cause by giving a co-worker a green plant for their office.
Administrative Professionals Day – April 22, 2009 — Send balloons and flowers to the person who makes your job easier.
Mother's Day- May 12, 2009 — Send flowers and sweets to the sweetest person you know.
Fathers Day- June 21, 2009 — Send a goodie basket and a blooming plant to the person who takes care of everything.
Independence Day- July 4, 2009 — Show your patriotic spirit and send flowers to someone serving our country.
Grandparent's Day- September 8, 2009 — Spoil the ones who spoiled you with a gift basket and flowers.
Halloween- October 31, 2009 — Treat someone you know with a bouquet of flowers.
Thanksgiving- November 26, 2009 — Send flowers to someone you are thankful for.
Christmas- December 25, 2009 — Show your appreciation to someone who helps you all year with a festive flower arrangement.
Whether you are expressing love or sending thanks, remember the delight flowers can bring. Your friends and family will appreciate your decision to make beautiful flower arrangements your signature gift for 2009!
Contributor: Jordon Robinson
Did you enjoy this newsletter? Check out previous Flower Shop Network newsletters
Don't forget to check out Flower Shop Network's Bloomin' Blog for more information about plant care, gift ideas, flowers and more.