Create the Ultimate Romance with Chocolate & Flowers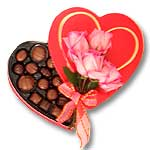 Love. Romance. Desire. Yearning. Expectation. Think moonlit walks on the beach, candlelit dinners for two, a bed of rose petals. Think chocolate-covered strawberries, a dozen red roses, a romantic card. It's Valentine's Day, the time of year when the heart expresses its affection and couples gather together to rejoice in their relationships. Whether the love is young or more seasoned, flowers and gifts abound on Valentine's Day in an ever-increasing effort to celebrate true love. Want to make this Valentine's Day unique and special? Think it's too boring to send flowers and chocolate? Don't be afraid to put a new twist on an old favorite and make flowers and chocolate a romantic and exciting expression of love. These seemingly universal Valentine's Day ideas can be unique and personal with just a little bit of thought and advance planning. Satisfy both halves of your Valentine's daily life: send traditional flowers and chocolate to work during the day and then surprise with personal flowers and gifts at night.
Keep romance alive and interesting by adding an element of surprise. This Valentine's Day, turn traditional flowers and gifts into a heightened expression of love and commitment by adding a bit of flair and creativity. Remember, first, that roses and assorted chocolates in a heart-shaped box are not the only options for St. Valentine's Day. Each flower connotes a unique meaning, and an individualized bouquet specially selected by a Valentine means more than a generic arrangement. Florists carry all sorts of exotic and beautiful flowers; visit a local flower shop well before Valentine's Day to see both its selection of flowers and to explore its more specialized options. Choose blooms that reflect cherished traits in a Valentine – beauty, compassion, love, delight, loyalty – a bouquet that would melt any beloved's heart. Have these flowers delivered in a public place so that the recipient can be the center of attention (and you'll be the center of attention when your Valentine returns home!)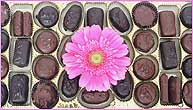 Many florists also provide gourmet chocolates that are sure to make a Valentine feel special: dark chocolate, white chocolate, and milk chocolate in all sorts of truffles, fudges, cheesecakes, brownies, and chocolate desserts. Chocolate can even come in special forms perfect for Valentine's Day gifts – consider a stunning arrangement of chocolate roses and hearts interspersed with Baby's Breath filling and decorative ribbon, or a tray of gourmet chocolates arranged to spell "Happy Valentine's Day" in chocolaty goodness. Plan to deliver a large selection of chocolates to a Valentine's office or work place just after the romantic floral bouquet arrives. Not only will the additional Valentine gift be unexpected, it will be well-received: the sweet treat can be shared with coworkers and allow them to share in the Valentine's Day revelry.
As much fun as it is to celebrate true love publicly, Valentine's Day is ultimately a celebration meant to be shared between two lovers alone. Once again, the traditional Valentine's Day ideas of flowers and chocolate can be specialized to make this evening unique. After the chocolate and romantic flower delivery at work, treat your Valentine to a candlelit dinner. Place a rose or special arrangement on the dinner table and dine over its aromatic perfume. Don't forget dessert; tempt the sweet tooth with a small piece of gourmet chocolate fudge, chocolate truffles, or even sip a chocolate martini beside a flickering fireplace. Afterward, lead your Valentine down a path of rose petals to a private room lit by candlelight and filled with flowers that uniquely reflect your Valentine's personal traits and preferences, and draw attention to a small tray of chocolate-covered strawberries. Here the traditional gift of flowers and chocolates during the workday is complemented by the personal attention to flowers and chocolates at home. To complete your Valentine's Day surprise, read a love poem or personal note that enumerates all the ways in which your Valentine is beloved and special. Then linger to receive the reply.
Make this Valentine's Day one to remember. So many Valentine's Day ideas are expensive and impersonal. Your local florist can work within your budget to help you plan the perfect Valentine's gifts. Be sure to visit the flower shop early; love is in the air this season and your florist is bound to be overwhelmed come February fourteenth. To help save time and effort while in the shop, learn your Valentine's favorite flowers and chocolate preferences in advance, and then seek your florist's advice in the arrangement of the details. Both you and your Valentine will be happy with what can happen when the traditional Valentine's Day flowers and gifts become a celebration of your own unique love.
Contributor: Beth Roberts
Send a little delight their way – order your Valentine's Day Flowers & Chocolate now.
Did you like this newsletter? Do you have flower and chocolate suggestions? Send your comments to the Bloomin' Blog under 3 Ultimate Valentine's Day Gift Ideas – Chocolate, Flowers and Wine.