Calla Lily Flowers: Ideally Pure and Beautiful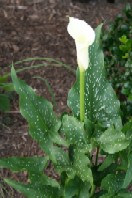 Beautiful, resilient, versatile, and full of meaning, the Calla Lily is one of the most popular flowers on the market today. Although not an actual lily, The Calla Lily often plays the role of a traditional lily by symbolizing purity, sympathy, or appreciation. It is also a quite a hardy flower able to grow in a variety of environments. The Calla Lily is often considered an example of the ideal flower.
Originally found in South Africa, the Calla Lily grows naturally close to bodies of water in marshy environments. It can also encompass entire fields in its native country, where it is considered an undesirable weed. It is common practice for scores of this beautiful flower to be eradicated to make way for agriculture.
The common Calla Lily, Zantedeschia aethiopica, was named after Italian botanist Giovanni Zantedeschi by the German botanist Kurt Sprengel. It is also sometimes referred to as an Arum lily. However, it is neither a lily, nor a member of the genera Arum nor Calla, although it shares many characteristics of the two. It was once a member of the Calla genus, which was named after Swedish botanist Carolus Linnaeus, before it was split into several genera, including Zantedeschia.
The appreciation of the Calla Lily in Europe dates back to an illustration of the Royal Garden in Paris in 1664. It was brought to Europe from Persia by the Swedish king Karl XII. Soon after, the flower's popularity erupted and soon it was featured in celebrations all over the continent. It was also used to communicate in secrecy among Victorian nobility.
The Calla Lily was thought to represent magnificent beauty and it was given with the utmost respect. Also, the fact that the flower could be grown in greenhouses year round in the southern regions of Europe also contributed to its rapid success. Mexican painter Diego Rivera also featured it in his works of art.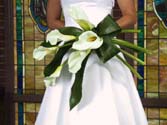 The Calla Lily has been used in bridal bouquets as far back as 1934, where they are seen in a photo of a South African bride. Because lilies are a symbol of purity, these graceful flowers continue to be a staple of wedding bouquets today. They have also been a symbol of celebration since as far back as ancient Rome. Both these qualities lend themselves to the Calla Lily's immense popularity in weddings.
The Calla Lilly easily incorporates into a wedding bouquet or stands alone as the centerpiece of its own. The lilies will look best in simple arrangements where they are not in competition for the focus. They have a strong, distinctive look and can overpower more delicate focal flowers in a bouquet. Also, for a more natural look, cutting the stems at varying lengths allows for each flower to be admired individually.
Brides also tend to prefer the white bloom of the Calla Lily when celebrating their wedding day. It is as popular, if not more so today, than the rose in wedding ceremonies. Calla Lilies are particularly popular in summer weddings.
The white Calla Lily is often used alongside other flowers of the same color, such as orchids, for an elegant, monochromatic look. Their unique shape provides just the right amount of eye-catching quality to a bouquet without complicating the color composition . However, using the white bloom in contrast to another bold flower, such as a red rose, can still be tasteful and simple.
The Calla Lily is also used in tropical themed arrangements because of its exotic shape. They can be placed throughout a bouquet with other tropical flowers, such as tuberoses and anthuriums, to complete the bouquet. The Calla Lily can also stand alone as a single cut flower for bridesmaids or family members to carry.

White may be the most popular choice for brides when they choose the Calla Lily but there are many other options. For example, Calla Lilies can come in a wide variety of colors, ranging from ivory to lavender. There are also pink varieties and white lilies with pink tips. Green, burgundy, and yellow are also options. Not to mention, there are variations in each color, with yellow ranging from pale yellow to a deep, saturated bloom.
Each of these colors opens the door to more variety in bouquet design. Brides can keep the monochromatic look with a number of other flowers or they can incorporate a boldly colored Calla Lily into their wedding's color scheme. Either way, the Calla Lily is sure to be a showstopper.
The Calla Lily boasts a rich history and a bright future. It is one of the most popular flowers on the market with a number of uses and meanings from sympathy to celebration. It has become one of the most sought after flowers on the market and surely will remain a star for years to come.
The next time you want to send flowers with a special touch think about the calla lily. Your local florist can incorporate this beautiful flower into many flower arrangement styles including wedding flowers and bouquets.
Contributor: Ashley Slayton