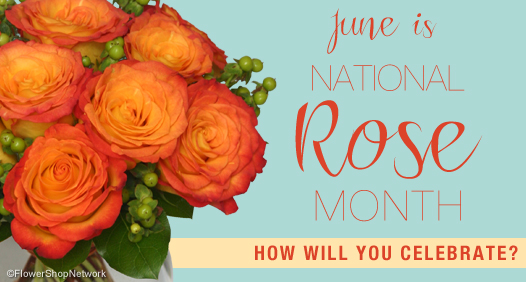 June is the month of brides. It also happens to be National Rose Month, as dedicated by the American Rose Society, so it's appropriate now to discuss roses, America's most popular blossoms, as wedding bouquet flowers. The rose has been called the "Queen of Flowers", and our love affair with her majesty goes all the way back to the 16th century when colonists brought the rose to the new world, making it the longest cultivated European plant in America's history. With their shapely beauty, luxurious petals, and heady aroma, it's no wonder that roses remain as the preferred flowers for wedding bouquets.
Many Types of Roses
Today's brides have more choices than ever when it comes to selecting roses for their bouquets, as hybridizers around the world are constantly striving to produce new and improved varieties for use in floral designs. Chances are, a modern bride and her professional florist can find a rose in nearly any size or hue to coordinate with the wedding theme.
Some things to consider in determining which roses will make the best wedding bouquet flowers include:
Color (for example, there are more than 20 readily available varieties of white and ivory, not to mention hundreds of other shades),
Size,
Shape (some hybrids are more rounded, while others are more pointed)
Petal count (more petals make for a lusher, fuller blossom)
Degree of openness
Durability (some roses hold their petals better than others after they've opened)
Here is a listing of several white and off-white rose varieties which have found wide popularity as wedding bouquet flowers:
| | |
| --- | --- |
| Virginia | very large, soft ivory petals, outer ones with a pink blaze |
| Escimo | delicate smaller size, pure diamond white, opens well |
| Vendela | creamy white, medium size, high petal count |
| Tineke | medium size, pointed bud, cool greenish-white, holds well |
| Bianca | medium size, rounded bud, translucent rice white color |
| Sahara | warm ivory-ecru, rounded petals, opens full |
| Clear Ocean | larger size, fragrant, soft ivory color, opens wide |
| White Majolika | spray type, pure white sweetheart sized blossoms, opens well |
This list only scratches the surface of the choices in white to ivory roses which are available to your professional florist, who has the expertise to guide you in making the right decisions.
Who Says Wedding Flowers Have To Be White?
Of course, not every bride chooses white for her wedding bouquet flowers, and roses offer the full gamut of colors from red to yellow, pink to lavender, orange to coral, even brown…… 'Leonidas' is known as 'the chocolate rose' for its rich cocoa color.
The rose truly is the Queen of Flowers, and not only during the month of June. Celebrate your wedding, or any special occasion, with some royal blossoms from your professional florist at any time of the year.
Wedding and Party Network will make finding wedding supplies easier.