An ever so light breeze dances through the air of a perfect spring night. The moon glistens through the trees lighting the way as the party-goers glide to the entryway of the event. As the door swings open, lavish decorations and beautiful flowers cover every inch of the room. The exuberant conversations of the stylishly-dressed guys and the giddy laughter of the fashionably-dressed girls let us know that this event is the event of the year: PROM.
Prom season is a flurry of activities. In the midst of the entire hubbub, prom ideas and decisions are being made. In the cafeteria, you can hear conversations about prom theme ideas, decorations, entertainment and location. The latest prom trend ideas are the threads that bind all the conversations. Although a classic, subtle and sophisticated prom is the 2007 trend, it is a universal prom trend as well.

Prom decorations can be the difference between a venue with classic sophistication and a lackluster gym with streamers. The epitome of elegance can be achieved from the door to the bandstand with prom flowers. Feelings of enchantment will envelope prom-goers as they enter their prom through an archway interwoven with greenery and cascading flowers. Subtle sophistication greets them at the tables where prom decorations are simply a bud vase containing a single stem of the class flower. The bandstand is a mesmerizing display with strategically placed balloons and spectacular vase arrangements perched on ornately decorated pedestals. A touch of romance is found on the beverage table, with scattered rose petals and a rose tussie-mussie. A panoramic view of the room is a breathtaking look at a bounty of prom flowers.
Prom decorations are not limited to flowers, balloons and other glittery accoutrement. The participants add to the splendor of the atmosphere. A sea of colorful prom dresses and tuxedos create an awesome accent to the flowers and prom decorations. Prom attire is an important aspect of the whole prom experience and trend knowledge is the key. Prom dresses and tuxedos should compliment the prom decorations and theme. Remember that this year classic, subtle and sophisticated looks are the popular inspirations for prom.
A drop-dead, gorgeous look is amazingly simple; play on trend colors and styles; and remember that uniqueness is the foundation for a "tres chic" prom. No doubt wearing a rich chocolate brown prom dress with intricate beading will turn heads. However, wearing a beautiful botanical necklace to accessorize will elevate the look with a subtle uniqueness. The combination of flowers and jewelry is not only a unique idea but also the utmost trend in prom attire.

"Breakfast at Tiffany's" retro is also in this prom season. Audrey Hepburn was the personification of sophistication in her black dress, upswept hair and tiara. Classic elegance will be transformed into chic elegance when the tiara is accented with flowers, like spray roses, orchids, baby's breath or other small flowers. At prom, an up-do hairstyle goes from simple to glamorous just by wearing a tiara containing flowers. Remember, prom flowers are not just for decorating the event hall, but also the prom-goers.
In a sea of long flowing gowns, the short and flirty prom dress stands out. Interesting hemlines and fluid fabrics in rich jewel tones create a very alluring appearance. Turn that rich, sultry look into a delightfully provocative one with shoes enhanced with flowers. Prom beauty should be from head to toe; accentuating with prom flowers can definitely make all the difference.
What strikes fear in every guy attending prom? Getting a prom corsage for his date. There are three choices: a prom corsage you pin on, a wrist corsage or no corsage. Remember, the prom movie scene where the guy pricks his date as he tries to pin on her prom corsage. The fear of stabbing your date is the reason the wrist corsage is now the most popular prom corsage. Coordinating her dress color and the prom wrist corsage is very crucial. A new and exciting trend is to skip the corsage, and get her a tussie-mussie or nosegay instead. This wonderful way to give or receive flowers will never interfere with jewelry choices or dress styles. It is a romantic and unique twist on an old custom.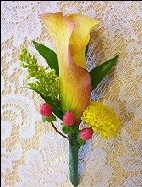 Guys can accentuate their look with flowers as well. Boutonnieres do not have to be run-of-the-mill anymore. Orchids and callas can make unique boutonnieres by themselves or with interesting embellishments.
Prom flowers can create a great platform in which you can show your individuality. Using flowers in your hair, on your shoes or as jewelry are one-of-a-kind accessories. Love the use of prom flowers in your attire? Try accessorizing your handbag or bracelet with roses or gerberas. Remember the purpose of prom is to have fun and show the world your uniqueness.
If you can dream it the local florist can make it. With their creative talent and decorative wires, local florists are a great source for the new prom jewelry. Whether you use flowers in your tiara or on your shoes, you can't go wrong with this great prom trend. Your local florist can also help you create a trendy unique prom with flowers. Stop in and discuss the look you want with your local florist.
Click here and find a florist to make your prom flowers unique and your dreams come true.
For more party flower or balloon ideas read:
You're Invited
Balloon Bouquets
Author: Jamie Jamison Adams