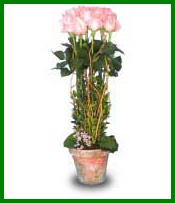 Mothers day was established to show our respect and appreciation for the wonderful woman we call mother. Everyone wants to send their mother a special gift on Mothers Day, but coming up with unique gifts for your mother can be perplexing and time consuming. Many are over-whelmed with the prospect of finding a special mothers day gift.
Flowers are great way to let Mom know you love and respect her. For years, the carnation was the ultimate Mothers Day flower. Although the carnation is a nice flower, meaning fascination, woman's love, pride, it can be fun to try something new and different. Unique and special may be words used to describe your mother, so why not find flowers that express that sentiment.
Unique and special with relatively little effort, flowers can be the best Mothers day gift. But with all the unique and special flowers available, how do you decide which flowers best express your feelings? Start with what your mother means to you.
Does she carry herself in a dignified and noble fashion?
Maybe your mother is a delicate beauty.
Is the essence of your mother the ability to care and forgive?
Does admiration and protection come to mind when you think of your mother?
Is your mother a pillar of strength?
Will you always remember and be thankful for your mother?
It is well established that flowers are a great gift for Mothers day. With a little thought, this great gift can become a very special gift by choosing flowers that have specific meaning. You can send flowers that represent your mother's unique traits or a special message you want to convey. Here are a few flowers you can send your mother; that will make your mother day gift unique and express a personal message to boot.
Magnolia flowers represent dignity and nobility. No other flower can compare to the dignity and nobility displayed in the beautiful white blooms of the magnolia. They stand proud on the leaves of the majestic magnolia tree and will do the same when placed in a flower arrangement. Sending your mother a magnolia arrangement will let her know that you think she has the nobility of a queen.
Orchids are a symbol of delicate beauty. The orchid has an undeniable mystique; looks delicate and fragile, but is really a hardy plant that is easy to maintain. Your mother may seem delicate, yet somehow she was always able to chase away the boogieman, scrape you up off the floor when you fell and she stood up for you against all others. A orchid in an exotic pot will let your mother know she maybe be beautiful and delicate, but you know her inner strength. Other orchid gifts could be: an orchid wrist corsage, orchid stems in a crystal vase or a botanical necklace of orchid blooms.
Tulips epitomize caring (pink tulips) and forgiveness (white tulips). After all, what other flower would emerge during the cold just to keep the end of winter from being so bleak? Sending your mother a pot of pink tulips that she can later plant will let her know she is a caring mother and you a caring child. White tulips arranged in a ginger jar vase will let your mother know you appreciate her forgiving nature. For a truly unique gift present your mother with pink and white striped tulips.
Heather symbolizes admiration (lavender heather) and protection or wishes will come true (white heather). Give your mother your heart and admiration with an arrangement that has lavender heather in the shape of a heart surrounded by roses and carnations. Make you mother's wishes come true with a unique gift of a white heather topiary arrangement. Potted white heather may not protect your mother, but she'll love the uniqueness of the plant.
Echinacea represents strength and immunity. A fantastic perennial plant, Echinacea makes a wonderful cutting garden plant, thriving in even the most difficult situations. So if your mother is the pillar of strength, let her know with a potted Echinacea plant. When it is in bloom from mid-summer to early autumn, your mother will be reminded of the unique mothers day gift you gave her.
Roses are the symbol of purity (white rose), thankfulness (pink rose) and remembrance (any tea rose). The elegant rose is always a great gift for mother; make it a unique mothers day gift by arranging it in a non-traditional way. Express purity with a tussie mussie or nose gay of white roses. Show your mother how thankful you are with a sweetheart bouquet of pink roses. Sometimes simple is unique. A single tea rose in her favorite color will let her know you love and remember her.
Finding a unique mothers day gift does not have to be difficult. Simply think of your mother, and talk to a local florist about what she means to you. Together you can find a flower or many flowers that symbolize the unique person you call mother. Your mother will love any gift showing respect and appreciation, but a unique flower arrangement as a mothers day gift, like the ones discussed here, will bring a tear to her eye.
Click here to find a florist to create that unique mothers day gift.
Want more ideas? Check out flower meanings; then discuss them with your local florist.
Read more about the flowers mentioned:
Roses and More Roses
Orchids and Orchid Care
Daffodils, Hyacinths, Freesias, and Tulips in Bloom
Have questions? Check out the FSN Blog; its a great forum for florists and plant lovers alike.
Author: Jamie Jamison Adams