New Advances Offer a Fresh Look at Permanent Flowers!
The idea of throwing away expensive, beautiful wedding decorations can make most brides and their florists cringe, but the idea of the silk flowers from years ago doesn't sound much better. However, take a look again and you may be surprised! Permanent flowers have come a long way since the days of cheap plastic stems, ratty blooms, and colors not found in nature–all of which has earned them a bad reputation that has taken years to shake off.

Today, artificial flowers aren't the shameful substitute for fresh flowers they once were. Thanks to many new options in materials, blooms and methods, permanent flowers are no longer second-best. In fact, there are now many excellent reasons to choose permanent flowers for weddings, everyday arrangements, and any other celebration!
Permanent flowers have come to the forefront thanks to the variety and availability of realistic materials used to construct today's newest and most beautiful blossoms. Silk flowers are the most common choice in permanent flowers; however, very few flowers today are made of 100% silk. This misnomer is applied to a number of different fabrics including nylon, polyester, cotton and rayon; all of which can be fashioned to make a divine flower to suit any need!
Depending on budget and demand, silk flowers can either be handmade or produced mechanically. Molded flowers are usually made of polyester and heat-molded to shape the fabric into petals using a machine. Next, the flower is placed on a wire stem covered in plastic with many other blooms. This wallet-friendly option, know as molded, plastic stemmed, is typically used in permanent flower arrangements where individual blooms aren't showcased. This is a great option for brides who envision a wedding drenched in romantic floral arrangements but do not have the means. This allows her to experience her dream at a fraction of the cost!
Handmade silk flowers begin with a stamped piece of material that is then hand-wrapped and positioned on a piece of wire wrapped in floral tape. Next, the craftsman can dye or paint the flower to make it appear as authentic as possible. Because of the amount of labor and materials involved, hand-wrapped flowers are usually more expensive and sold individually. Today, everyone can find her favorite bloom in a silk flower arrangement!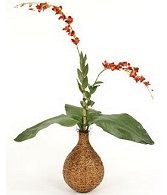 Paper flowers are another interesting option in permanent flowers. They are constructed from rice paper, parchment paper, or another fibrous material. The flower shape and additional leaves are then cut from the paper that is either pre-dyed or airbrushed following construction. The blooms are attached to wire that is covered in floral tape or more paper. This option is more expensive than molded silk flowers because they are much more difficult to create. Paper flowers are a great way to have an eye-catching arrangement all year long!
Dried flowers are in high demand for flower design because they are a versatile addition to flower gifts and arrangements for the home. Dried flowers add a touch of shabby chic appeal to any room. Not to mention, they can be mixed with silk flowers for a stunning permanent flower arrangement that will last for years! Bridal bouquets are another great idea for an ideal dried flower arrangement. Once preserved they are a long-lasting source of sentimental charm and delight!
Freeze-dried flowers are the latest addition to the permanent flower market. They are live flowers that have had all the moisture mechanically removed from their cells, preserving some of the original suppleness. Freeze-drying allows people to preserve bridal bouquets and other special arrangements, such as prom corsages, to be perfectly preserved and enjoyed for years! By freeze-drying your favorite arrangements, you can relive your favorite memories each time you enter a room!

Many of the same rules that apply when arranging fresh flowers still work with permanent flowers. However, choosing permanent flowers opens many doors! No longer must arranging revolve around preventing wilting. You can handle permanent flowers in ways that would normally cause damage to a live bloom, and you have many more options when working in intense climates. Permanent flowers eliminate the guesswork and the worry! For example, if a bride and groom intend on getting married at a far off destination, but are concerned about having the ideal floral arrangements, they can order permanent flower arrangements and have them shipped to the ceremony! By doing this, they can preview their flowers without having to worry about wilting, or about finding a new florist hundreds, maybe thousands of miles away!
Because of these many exciting developments in permanent flowers, many guests won't be able to tell some of your flowers are silk, paper, or preserved! Even the last tell-tail sign – scent, is added to make your arrangements more realistic! Many manufactures today offer scented varieties of their artificial flowers so no one will miss out on the thing many love most about floral décor!
Permanent flowers are no longer a downgrade. Instead, they are a viable option for many situations where fresh blooms may not work. Not only are they cost-efficient, they are an ideal way to preserve your fondest memories! They are a low-maintenance way of bringing the exquisite splendor of flowers into your home, wedding, or party and keeping them for years to come! So stop by your local florist and discuss your permanent flower options today!
Contributor: Ashley Slayton
Do you have a beautiful permanent flower arrangement? Send a picture of it to The Bloomin' Blog Plant Expert. The Plant Expert will share your photo with the blog readers.
If you enjoyed this newsletter, you'll enjoy the discussion at FSN's Bloomin Blog.