Grandparents Day is coming up soon, and what better time could there be to remember those senior folks, who are so special in our lives, with a colorful bouquet of fresh flowers? With the advent of autumn approaching, there is a plentiful selection of blossoms available at your local florist, including all sorts of perky varieties which are sure to delight any grandma or grandpa.
History of Grandparent's Day
National Grandparents Day originated with the idea of a West Virginia housewife, Marian McQuade, who wanted to champion the cause of lonely elderly people in nursing homes. She also hoped to persuade grandchildren to tap the wisdom and heritage their grandparents could provide. After years of lobbying and gathering state by state support, President Jimmy Carter proclaimed in 1978 that National Grandparents Day would be celebrated every year on the first Sunday after Labor Day…
…so you see that Grandparents Day wasn't actually invented by the floral industry or the greeting card manufacturers! Nonetheless, it's still a good idea to send our cherished elders some lively flowers just to let them know how much we love and appreciate them.
Chrysanthemums Make Great Grandparent's Day Gifts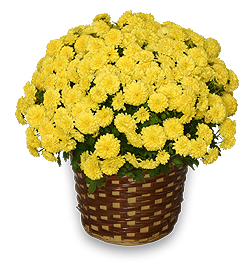 Among the popular blooms for the beginning of the fall season are the chrysanthemums. They're available in an ever-increasing range of shapes, colors, and sizes, some of which you may not even recognize as chrysanthemums. They also happen to be some of the longest-lasting cut flowers you can buy.
Spray Chrysanthemums
Spray chrysanthemums (sometimes known as "pompons") feature several individual blossoms on one stem, and can be purchased as daisy, cushion, or button types, as well as many novelty forms, such as spoon-petaled or anemone-flowered. Colors run the gamut of every hue in the spectrum, except blue (so far). A particularly vivid variety is the daisy type known as "Splendid Reagan", with hot magenta petals around a chartreuse green center….easy to see even with diminished eyesight. "Viking" looks just like a Blackeyed Susan, with its golden yellow petals surrounding the velvety brown middle. "Kermit" is a lime green button type, and "Bayfrank" sports a mauve-toned, semi-double or anemone type flower.
Let The Chrysanthemums Do The Talking
Durable and long-lasting, chrysanthemums may be the perfect metaphor for our wishes for a long and happy life for our grandparents. Your local professional florist can see to it that Gramps and Granny know you're thinking of them, whether they live near you or across the country, with an arrangement of fresh flowers for Grandparents Day. Besides, they already have everything else!