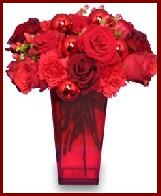 RED FLOWERS.
Since ancient man first broke the silence of pre-history and left his mark on a cave wall, he has harnessed the power of red to represent his most basic instinct and desire. Red has been splashed across the pages of time in every imaginable way: on rock, wood, scroll, parchment, tapestry, flag. It is the color of innumerable flower varieties, precious stones, consuming fire, spilled blood.
Red is a color that motivates, that charges the emotions & spurs the carnal appetite. Red bespeaks love and lust, beauty and battle, wealth and debt, power and danger, religious purity and the Devil himself. It is an enigma of opposites, a never-ending source of inspiration and fear. Nature throws red at the human eye from every possible cranny of creation, not the least through vivid crimson blooms that flower across the globe. These red flowers have been variously used as mascots, decorations, and tokens of love. A red flower can have innumerable associations; it is up to the bearer to capture its power for his own.
Red surrounds us, but it never fails to leave an impression. It is most closely associated with blood and thus with emotions that stir the blood: anger, passion, and love. The color red alone has been shown to stimulate a faster heartbeat and breathing. It has been symbolically used in just about every human culture.
In Asian cultures, it often represents the rich and powerful, good luck, or success. In India it is the color of a bridal dress and is the symbolic color for married women. The Russian words for "red" and "beauty" come from the same root, and are nearly synonymous. Western cultures have used red for the military, for royalty, for emergency and medical personnel, and especially for love.
Even religion does not allow red to be neutral: Christianity claims it both as a liturgical color representing the fire of the Holy Spirit at Pentecost and as the burning evil of Satan. Is it any wonder, then, that red flowers have captured mankind's imagination for centuries?
Legend has it that it was red clay into which God dipped His fingers and formed Adam. Other legends speculate that red flowers first appeared when the pure white blooms of Eden looked upon the nakedness of Adam and Eve and blushed. The red flowers of the Garden may have felt shame, but their progeny unabashedly filled the globe with infinite shades and varieties of red flowers.
Some, like roses, grow on sturdy bushes or climb tall, displaying each red flower in all its glory. Dahlias and gladioluses spike their clusters of brilliant red blooms proudly into the sky. The many red lily varieties spread huge colored blossoms to the admiration of all who behold them. Smaller tulips have red flowers that are no less vivid; they paint fields and hillsides with their dots of bright color. Other flowers, like carnations and gerbera daisies, are content in their simplicity and brighten the corners of gardens and flower arrangements.
With such a wide variety of red flowers, choosing the perfect species for an arrangement can be tricky. Take the size and shape of the blooms into account, but don't forget to consider the shade of various flowers nor the message they can convey.
Modern societies associate red flowers with friendship or romance. Generally, the deeper the red the more romantic the sentiment, thus the traditional St. Valentine's day gift of a dozen deep-red roses. A red rose denotes deepest love and respect and encourages deeper commitment. Carnations and tulips are also traditional envoys of love that can be incorporated into corsages and boutonnieres, or given "live" as a potted plant.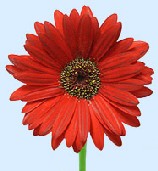 But what if a sweetheart deserves an expression of love that goes beyond the traditional? Pick a red flower for its unique characteristics: scent, texture, appearance, and singularity. Remember that red is the spectral opposite of green, so even a single red blossom will still be striking against a background of green stem and leaves.
Try a red lily for a fragrant display in the home that can later be planted in the garden and enjoyed for years to come. A gerbera daisy alone or in a small cluster can brighten any room, a red dahlia can add intrigue and mystery to romance, and a protea can add a quirky mid-western twist to a simple gift.
Some red flowers can tantalize the nose and the ears as well as the eyes. Sweet William flowers cluster together and emit a spicy, clove-like scent. They can add height to floral arrangements and are also a splendid addition to the garden: the blooms are edible and their nectar attracts even more colorful fauna to them, such as birds, bees, and butterflies. The Sweet Pea plant lives up to its name, with a sugary scent that is sure to beguile the senses. Children are delighted by the Snapdragon's red flower; not only do its climbing blooms add height and dimension to a flower arrangement, each blossom "snaps" when pinched, making an entertaining clicking sound!
It can be elegant or simple, classic or modern, stunning or understated, but a well-designed arrangement of red flowers never fails to impress. Think about the message you wish to send with flowers, and feel free to mix-and-match among traditional and unorthodox blooms. Whether seeking to enchant a loved one, cheer a sick bed, or congratulate a success, place a quick call to your local florist. Your florist will know how to expertly arrange just the right red flowers into a breath-taking arrangement that captures your sentiments exactly. Contact a local florist today to harness the harness the power of red for your own.
Contributor: Beth Roberts
Check out other newsletters involving romance, red or flowers.
Romantic Valentines Day Flower Ideas
Red Roses & Flower Meanings
Red Roses